Glacier National Park and Glacier House
Rogers Pass National Historic Site
Van Horne had other dreams in addition to a trans-continental rail line. In 1883, he had recommended that the federal government create national parks along the rail line in the mountains of Alberta and British Columbia. His proposal was modelled on the Northern Pacific Railway's successful relationship with Yellowstone National Park in Wyoming and Montana, which had been created in 1872. The Government of Canada followed the railway company's advice in 1885 and established Banff National Park, followed by Glacier and Yoho National Parks in 1886.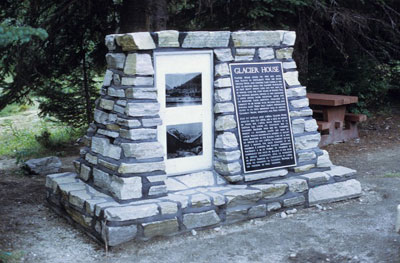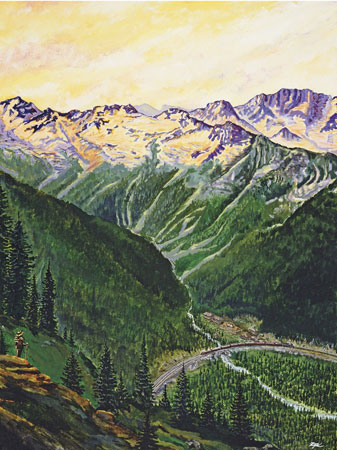 © Parks Canada / Zuzana Driediger / 2001
The government provided tourism development money for Banff, but left the development of Glacier and Yoho to Canadian Pacific. The railway company was planning a dining station in the Rogers Pass area before the rail line was even finished. Although dining cars were very popular, they added too much weight to a train straining to climb the steep mountain pass. A location near the Great Glacier (known today as the Illecillewaet Glacier) was selected and by late 1886 the Glacier House dining hall was receiving guests. The few chalet rooms accommodating overnight guests were quickly overbooked and a sleeper car was parked at the siding until additional rooms could be added to the hotel. Canadian Pacific staff and guides built climbers' cabins, teahouses and many of the hiking trails in Glacier National Park. The park and the hotel became the cradle of North American mountaineering. The railway changed how people viewed the mountains. Once considered a barrier to nationhood and progress, the mountains were now viewed by many as a major tourist attraction. Aggressive advertising, outdoor books, photo exhibits and the Swiss Guides who worked at the hotel all highlighted the intrinsic – and commercial - value of mountains. Glacier House was expanded twice, in 1892 and 1904, and the hotel soon set new standards for service and luxury. Glacier House was built before its better-known sister properties, the Banff Springs and Hotel Vancouver, and it was the inspiration for the Chateau Lake Louise.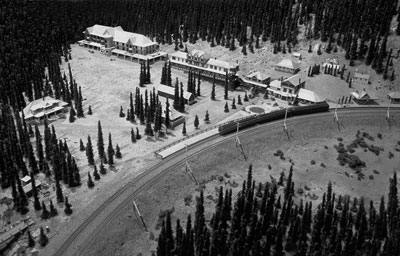 © Parks Canada / Rob Buchanan / 2006
Rogers Pass itself, once an unknown wilderness, was changed forever by the railway. Within four years of its discovery, there was a town known as Summit City complete with hotels, saloons, a barber shop, general store, school and residences and a short time later, railway maintenance facilities at a place called Rogers Station. There was little immediate recognition of the area as a national park, as the concept of stewardship of resources was not yet fully understood. Mining claims were staked, and timber berths negotiated. Recognition of Glacier National Park's wildlife and wilderness values would come in time.