Engineering marvels
Rogers Pass National Historic Site
By the end of the construction season just two years later, the right-of-way had been opened up as far as the newly-named "Rogers Pass". The end-of-track work camps were not far behind. James Ross supervised construction as his crews built eight major bridges east of the pass, including the Stoney Creek Bridge, (the tallest bridge structure in the world at the time), and the Mountain Creek Bridge (which required millions of board feet of lumber).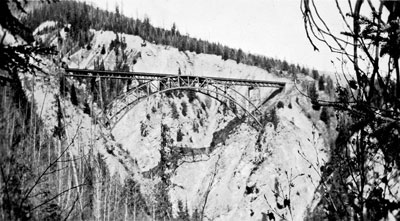 The rail line was finished by the fall of 1885 and the last spike was driven at Craigellachie, 118 km west of Rogers Pass. Sir John A. Macdonald's dream of a trans-continental nation had been fulfilled within 14 years of his promise to British Columbia. The Pacific Express, the first transcontinental passenger service left Montreal on June 26, 1886, and arrived in Port Moody near present-day Vancouver on July 4.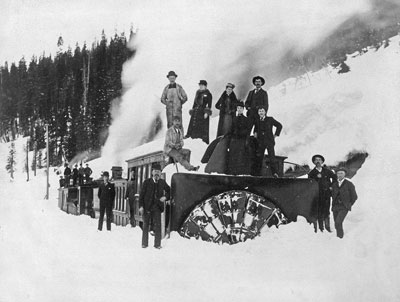 © Revelstoke Museum and Archives
An average of more than 12 metres (40 feet) of snow fell on this rail line every winter it was in use. No trains ran for months in the first winter of operation, 1886-87. James Ross had warned Van Horne about the incredible snow depths and avalanche activity in Rogers Pass, finally convincing him to build a massive and expensive system of snowsheds, modeled after the Central Pacific Railway's sheds in California's Donner Pass.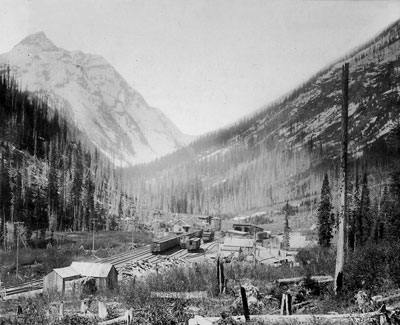 © Revelstoke Museum and Archives
If building a railway through Rogers Pass was difficult, operating it turned out to be even worse. Early steam engines had difficulty climbing over the pass. Pusher engines were stationed east and west of the pass to assist trains over the steepest part of the route. Wooden bridges and trestles were eventually replaced with stone and steel structures to prevent their loss through fires. Rotary plows, invented in Ontario in 1885 and resembling a massive version of today's snowblowers, were added to the rolling stock in 1888. Even that was not enough to make Rogers Pass operations easy, as trains were regularly hit and derailed by sliding snow. Despite the incredible challenges however, the mainline was considered to be a international railroading triumph.