The best hiking in Ontario
From hiking to the southernmost point of Canada and discovering the Anishinaabe legend of Miinkekwe and Migcheshibzhii, to an all-day adventure over Chigamiwinigum Falls; there's a hike for everyone in Ontario.
Pukaskwa National Park
Length: 18km (return)
Time: 8 - 9 hours
Level of difficulty: Difficult. Best for experienced hikers who can tackle obstacles such as loose rocks, tree roots and uneven surfaces. Check in with Parks Canada staff before you set off.
Are you ready for adventure? The White River Suspension Bridge Trail is a full day hike which rises 15m over 18km, leaving from the Visitor Centre. Part of Pukaskwa's 60km Coastal Hiking Trail, this section takes you 23m above the roaring Chigamiwinigum Falls on the suspension bridge by way of boreal forest and past secluded beaches.
Georgian Bay Islands National Park
Length: 2.5km
Time: 1.5 hours
Level of difficulty: Moderate
Take the DayTripper shuttle boat to Beausoleil Island to tackle the beautiful Fairy Trail, a short loop which takes you through classic Canadian Shield landscape of white pines, hardwood ravines and shining smooth rocks. Discover the Anishinaabe legend of Miinkekwe and her encounter with the dreadful Migcheshibzhii; see the rugged countryside which inspired the Group of Seven to capture its beauty on canvas; listen out for the family of loons who live on the lake.
Sault Ste. Marie Canal National Historic Site
Length: 2.2km
Time: 1.5 hour
Level of difficulty: Easy. Check in with Parks Canada staff as upgrades are being made to make the trail all-access with gravel paths.
See the interplay between nature and engineering technology on the Attikamek Trail along the lock gates, through the quiet woods and under the International Bridge around St. Marys Island. Look out for ducks, herons, frogs, squirrels, raccoons and other critters along the way.
Bruce Peninsula National Park
Length: 3km
Time: 3 hours
Level of difficulty: Moderate to difficult. Best tackled by active adults and older children.
One of the jewels in Canada, the ever-popular Grotto never fails to dazzle with its intricate caves and mesmerizing turquoise waters. Make like the locals and visit during spring or fall to avoid the queues at the parking lot to get the most from this natural wonder. The Georgian Bay Trail hike takes you through wetlands and ancient cedar forests, before delivering breathtaking views over Fathom Five National Marine Park and down to the Grotto.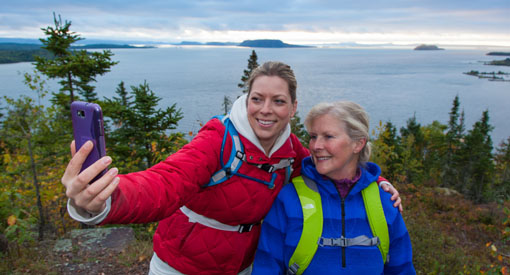 Lake Superior National Marine Conservation Area
Length: 10.1km one-way
Time: 3 - 5 hours
Level of difficulty: Difficult. Best for experienced day hikers only. Don't forget to check in and let people know your plans.
Challenge yourself to one of the toughest hikes in the area, the Nipigon River Recreation Trail, a full day's adventure. This trail takes you along Lake Superior's rugged shoreline with plenty of viewing platforms along the way. Look out for bald eagles soaring above, blue herons and white pelicans delicately perched on the water's edge.