History of Radium Hot Springs
The hot springs and surrounding lands have long been used by Indigenous peoples. The following is a summary of how the original hot springs have changed over the years since European settlers arrived in the area.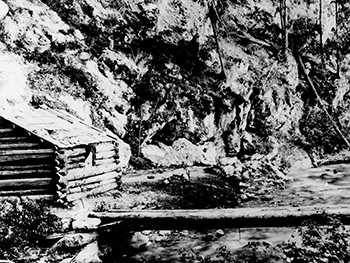 Late 1800s
The first permanent settlers come to the area and the springs become popular with non-Indigenous people.
1890
Roland Stuart, an Englishman, purchases the land surrounding the springs for $160. He has grand ideas for developing the hot springs, then known as Sinclair Hot Springs, after James Sinclair who led a party of mostly Métis families from the Red River through the area in 1841.
1914
Stuart constructs a concrete bathing pool, log bathhouse, small store and a home for the caretaker.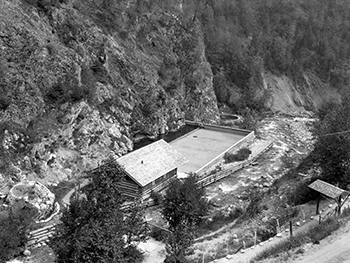 1915
Stuart renames the hot springs "Radium Hot Springs" after researchers from McGill University identified trace amounts of radon in the water.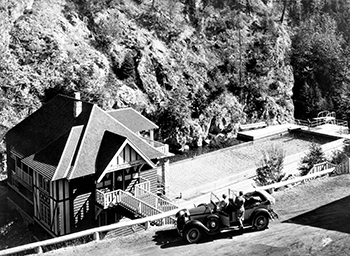 1922
Stuart's property is expropriated, and the springs are included in newly created Kootenay National Park.
1927
A new bathhouse is constructed, and the concrete hot pool is expanded.
February 20, 1949
The 1927 bathhouse catches fire and burns to the ground at 5 a.m.
Summer 1949
Construction begins on the "Aquacourt". Completed in 1951, the new facility cost $958,653.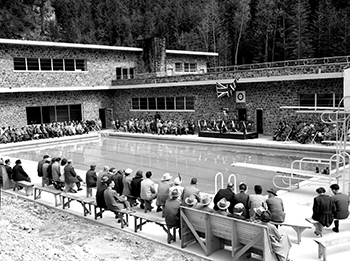 May 19, 1951
Over 1,000 people attend the grand opening of the current Aquacourt. It is the first major construction project undertaken in the western national parks following the Second World War and is now recognized as a Federal Heritage Building.
1968
A new hot pool replaces the original 1914 pool.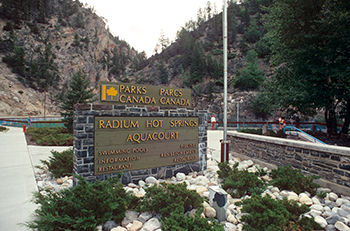 1993
The Hot Springs Enterprise Unit is created within Parks Canada to jointly manage Radium, Miette and Banff Upper Hot Springs. Together, the three hot springs become known as the Canadian Rockies Hot Springs.
1997
Major renovations begin with new reception area, gift shop, upgraded change rooms, and hot/cold plunge pool.
2001
Radium Hot Springs celebrates the 50th anniversary of the building of the Aquacourt with special events all summer long!
2016-2019
Parks Canada reinvests over $9.5 million dollars to restore the Radium Hot Springs Aquacourt. During the multi-staged projects, the mechanical and electrical systems were upgraded, the restaurant, gift shop, and changerooms were renovated, the roof top sundeck was replaced, energy efficient technology was introduced and excess geothermal energy from the hot springs was captured for use.