Boating
Prince Albert National Park
Water Safety is a shared responsibility.
Please review the following water safety information to ensure each adventure near or on the lake is a safe one.
Visitors in Prince Albert National Park enjoy a wide range of activities on the water. There are several lakes - large and small - that offer access to motorised pleasure craft and sail boats. Motorised pleasure craft are only permitted on Waskesiu, Crean, Kingsmere, Sandy and the Hanging Heart lakes. Non-motorised activities such as sail boating and paddling are permitted on all park waters.
Always wear a certified life jacket or personal flotation device (PFD) when recreating on any water body.
Stay close to shore and use pleasure crafts at own risk as beaches and open water are not patrolled.
Be self-reliant and prepare to self-rescue should any boat, canoe or kayak capsize as help may not be immediately available. This includes wearing an approved life jacket or personal floatation device (PFD).
Cellphone coverage varies by carrier and may not be available in remote areas of Prince Albert National Park. It is important that you and your companions are prepared for any emergency or delay that may arise.
Prepare for potentially strong winds and waves on lakes as weather can change quickly. Check forecasted weather conditions before departure.
Please note:
There is a 40 h.p. motor restriction on Kingsmere Lake
Personal watercraft such as Jet Ski, WaveRunner, or Sea-Doo are not permitted on park waters
All watercraft must conform to federal small vessel and pleasure craft regulations
Moorage, boat tours and watercraft rentals
Marina facilities on Waskesiu and The Hanging Heart lakes provide moorage, dry storage, boat rentals, and guided boat tours in Prince Albert National Park. Please visit the Waskesiu Marina Adventure Centre for more information.
Water skiing and wakeboarding
Action sports such as water-skiing, wakeboarding and wake-surfing are exciting ways to enjoy your time on the water and Waskesiu Lake is the perfect place. There is plenty of space on the lake to enjoy that perfect run.
Birch Bay beach and picnic area is a great place for watersport activity. Situated on the north shore of Waskesiu Lake, the beach is the perfect gathering place to enjoy the lake with family and friends. Large hills extend to the southwest from the beach offering almost 2 km of lee shoreline protected from the prevailing northwest winds.
Sail boating
Not too big and not too small, Waskesiu Lake offers a great destination for small sailing vessels. Including The Narrows, Waskesiu Lake from east to west is almost 25 km in total length offering sailors plenty of lake to enjoy on breezy summer days. More experienced sailors may also choose to navigate through the Hanging Heart Lakes into the wide open waters of Crean Lake. At over 100 square kilometers, Crean Lake is the largest lake within Prince Albert National Park and offers terrific backcountry camping.
Water levels can fluctuate from year to year and throughout the season. Boat launch facilities in Prince Albert National Park are suitable for sail boats with a flat bottom or drop keel.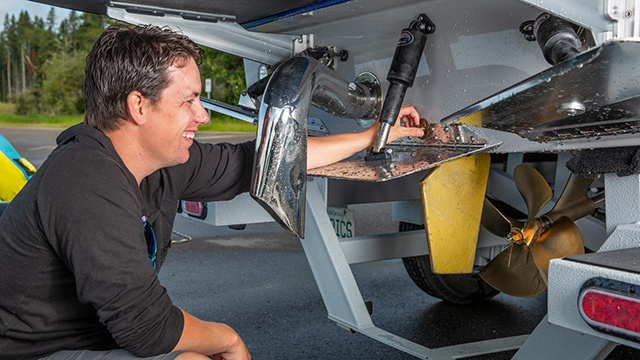 In collaboration with partners, park management is working hard to keep aquatic invasive species like zebra mussels out of the park's lakes and rivers. Learn more about how you can help!