Broom Point Fishing Premises
Gros Morne National Park
This restored traditional fishing premise gives you a real glimpse into the vibrant lives of inshore fishing families of coastal Newfoundland. Discover the place the three Mudge brothers and their families called "summer home" from 1941 to 1975 as they fished this coastline, made fish and canned lobster.
Broom Point was a summer fishing station from mid-April through August where the Mudges, their wives and children all shared that single cabin with no water or electricity. Together, they fished from the big 'store'.

They also fished for salmon and herring here. And too, in the spring of the year, lobster. As the men fished, the women and children "made fish," canned lobster, and put in gardens for their winter food. They canned both their own salmon and lobster that was sent on to the American markets.

In the fall they returned to their 'winter home' in Norris Point. Their lives were a testimony to the seasonal cycle of life: summer fishing on the shore, and in winter, retreating inland, working in the woods, and preparing for the next summer's fishery.
How do you want to experience Broom Point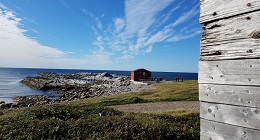 Broom Point Fishing Explore the grounds and windswept coastline at Broom Point while imagining what life was like for the families who fished here in the mid-1900s.
Visit the shore at low tide. On a calm day, marvel in the beauty and serenity. On a stormy day, experience the power and majesty of nature as the wind whips around you and waves crash against the rocks.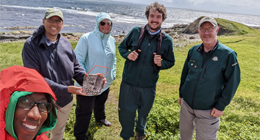 To the Summering Ground
Guided walk: Find times and details for tours.
Trace the footsteps of the many peoples who called this place home. From the Groswater culture 2300 years ago, to the first European settlers and their hardships and triumphs -- step ashore and discover their common ground. Take a stroll along Steve's Trail through the tuckamore to the headland near the mouth of Western Brook - the Summering Ground.