Winter safety
Fundy National Park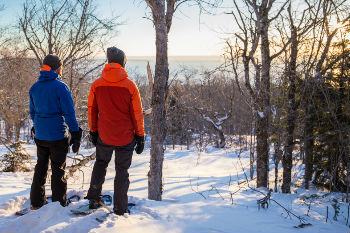 Exploring Fundy National Park in the winter is an excellent way to discover the park and its inhabitants. Wildlife is often easier to spot without the leaves on the trees and there is clear evidence of creatures big and small thanks to tracks left in the snow.

When visiting during the winter, be aware of the extra hazards such as cold temperatures, storms, challenging travel conditions, and short daylight hours. To make each visit to this winter wonderland a safe and enjoyable one, be sure to check the forecast and prepare for the weather before departure. This includes filing a trip plan with a trusted adult and bringing essential items, like water and a head lamp.
Driving
New Brunswick weather can affect road and travel conditions, particularly during the winter months. Before leaving, check the forecast and road conditions using New Brunswick 511.
At Fundy National Park, oftentimes one can count on there being snow in the winter. Pack supplies to prepare for an emergency.
When winter driving conditions exist on park roadways, slow down and be aware of surroundings. File a trip plan with a trusted adult. Roads are not regularly patrolled in the park and Parks Canada does not offer towing services.
Observe posted speed limits and watch for wildlife on or near the roadway. Be aware of wildlife on roadways especially at dawn and dusk when animals are most active and low light can make them difficult to see. Large animals such as moose or deer with dark brown coloring can blend into the landscape in low light.
Pay special attention when driving at night as wildlife are often challenging to see, even with headlights on.

Hiking, skiing and snowshoeing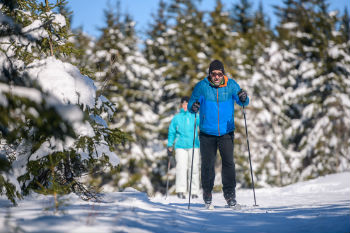 Winter can be an excellent time to explore and experience the serene wilderness of Fundy National Park. Designated trails are often well-packed by the many snowshoers and hikers. Exercise caution and watch for icy sections, deep snow and fallen trees. Use ice cleats and hiking poles to prevent slips and falls.

Weather can change quickly. Plan for the weather and watch for changes in weather conditions.

Use caution when hiking, skiing or snowshoeing on lakes or ponds. Areas of thin ice exist on water bodies throughout the park.

Children need constant supervision. Keep children within arm's reach on and around ice.
Skating
Outdoor ice skating is a growing popular activity in the park. Parks Canada does NOT monitor natural ice surfaces for safety.
Many environmental factors affect the thickness of the ice. If you choose to skate on natural ice, you do so at your own risk. The recommended ice thickness is at least 15 cm for walking or skating.
Please be sure to arm yourself with safety information before heading out
If you are not sure if the ice is thick enough, stay off it
Never skate alone
Don't skate in the dark
Other skating options:
Alma rink is an outdoor skating rink, managed by the Alma Recreation Council, located in the Village of Alma at the corner of Foster Road and Main Street.