Water and water-related activities
Fundy National Park
Tides
The Bay of Fundy is home to the world's highest tides, which can measure between 9 and 12 meters in height. Point Wolfe Beach, Alma Beach, and Herring Cove Beach are all great choices to explore and discover the tides in action. Please check the tide times at the link below before venturing out to explore the ocean floor.
River Crossings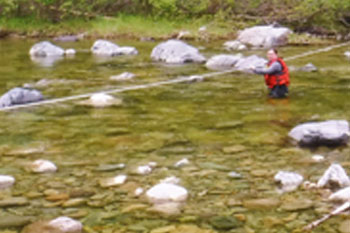 Several trails in the park require fording rivers. When water levels are high, crossing can be dangerous. Park staff monitor water levels and close crossings when conditions are hazardous. At these times, signs will be posted at the trailhead to indicate the closure. If you are unsure about water conditions, do not take a chance.
Swimming
Lakes
Bennett and Wolfe Lake are the ideal place for a refreshing swim on a hot summer day. These lakes are unsupervised so take precaution and always swim with a buddy.
Rivers
Swimming in rivers can be dangerous. Do not swim where the current is strong, never dive into the river, and always swim with a buddy.
Note: The Forty-Five River bridge pools are closed to swimming.
Unsupervised Swimming
Swimming is unsupervised in rivers and lakes. For supervised swimming please visit the heated saltwater swimming pool.