Completed infrastructure projects in the national park reserve
Pacific Rim National Park Reserve
Wick Road Bridge and salmon habitat restoration
Spawning and juvenile salmon can now access previously unreachable habitat thanks to the replacement of an old, collapsing culvert with a clear-span bridge on Wick Road. This project is one of the most ecologically-effective salmon habitat restoration projects in the history of the national park reserve. Watch the time-lapse video to see the installation of the bridge and return of wildlife to the creek. This project was completed in June, 2016.
Restoring Salmon Habitat on Sandhill Creek
Pacific Rim Highway – Safety improvements
Parks Canada has completed significant improvements to Highway 4 through Pacific Rim National Park Reserve. These upgrades improve the safety of visitors and community members, ensuring a high-quality travelling experience through the national park reserve, while reducing long-term maintenance costs to this important roadway and achieving conservation gains for the national park reserve's ecosystem.

Highlights of the completed work include repaving and repairs along the entire highway and to some adjacent roads, the addition of a pedestrian controlled crosswalk at a popular day-hike area to enhance pedestrian and motorist safety, and the installation of new LED signs to broadcast critical, real-time, safety information. The improvements to Highway 4 through Pacific Rim National Park Reserve will benefit local communities, and visitors to the national park reserve.
Washrooms at Long Beach South and North, Wickaninnish Beach and Incinerator Rock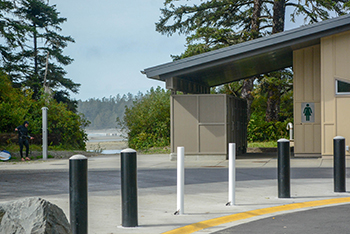 Four beautiful new washrooms at Incinerator Rock, Wickaninnish Beach and Long Beach North and South are now open. The new buildings have toilets, change rooms and outdoor showers. Visitors can also access a park use machine at the new information kiosk at Incinerator Rock, completed in 2019.
---
Green Point Campground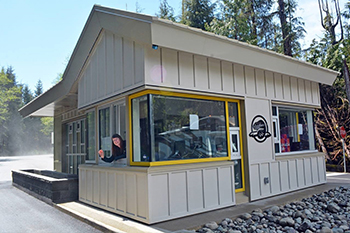 A new entrance kiosk with a wider entrance allows visitors to by-pass the line-up if they have already registered at the campground. Four new washroom buildings with hot showers and kitchen sinks; electrical hook-ups; new fire rings; picnic table; and an RV sani-station are some of the significant improvements we've made to Green Point Campground between 2015 and 2019.
---
West Coast Trail – Logan Creek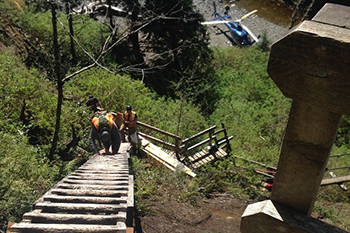 Since 2015, the Government of Canada funded bridge and ladder improvements along the iconic 75 km West Coast Trail. The West Coast Trail is shared with Huu-ay-aht, Ditidaht and Pacheedaht First Nations. Logan Creek, known as wi?e:?, lies in the traditional territory of the Pacheedaht.

One improvement to the West Coast Trail is a new suspension bridge constructed in 2019 crossing Logan Creek. This project is an example of engineering excellence that replaced the old bridge and ladder system due to slope instability.

Spanning 113 metres, the Logan Creek Bridge is one of the longest suspension bridges in British Columbia, offering stunning views of Logan Creek 40 metres below as it empties into the Pacific Ocean. The new bridge will provide hikers with a safer—and certainly a less exhausting—crossing at the same elevation as the trail further upstream than the old bridge system.

Note that only registered West Coast Trail hikers can access Logan Creek Suspension Bridge. It is not accessible by car.

Building the bridge in such a remote location was a challenge: bridge components, tools and machinery had to be flown in and out by helicopter. Each trip was strategically planned around the same natural forces that make the hike so arduous: heavy rain, fog banks, and high winds. To minimize wildlife interactions, the contractor even transported a bear safe storage container to the site for all food and waste, and installed an electric fence around the work site.

Throughout the project, Parks Canada ensured that contractors followed environmental and cultural standards. At critical times such as during bird nesting periods, environmental monitors were on site. We worked with Pacheedaht First Nation on both cultural and environmental monitoring, ensuring any culturally sensitive trees or areas were cared for appropriately.
The West Coast Trail just got a stunning suspension bridge!
---
Rainforest Trail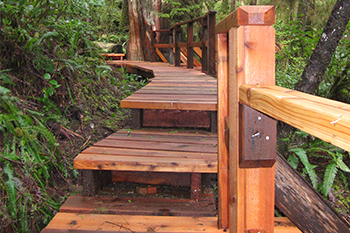 The Rainforest Trail has always been a popular destination, but after some creative improvements to the cedar boardwalk and stairs, the A and B trails are receiving rave reviews from visitors for this amazing coastal rainforest experience. During this project, Parks Canada staff replaced two kilometres of decaying cedar board walk over two winters to minimize the impact to visitors. Trail A was finished in April of 2017, and Trail B was finished in April of 2018.
---
Rainforest Trail Pacific Rim highway crossing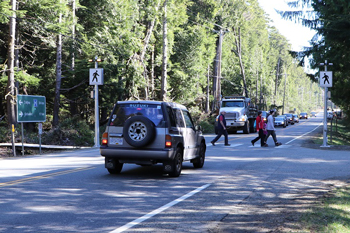 A highly visible pedestrian-controlled crosswalk now connects the two halves of the Rainforest Trail. Completed in March 2019, this new infrastructure is a further enhancement to the area to ensure pedestrian and motorist safety. Parks Canada had previously installed a painted crosswalk, lowered the speed limit and installed signs warning drivers of the reduced speed limit at the Rainforest Trails, and despite these efforts, drivers continue to drive over the speed limit, placing pedestrians at risk. The new crosswalk will provide motorists significant warning to slow down and stop, to allow pedestrians to safely cross the Pacific Rim Highway to get to Rainforest Trail A and the beautiful boardwalks that wind through the coastal rainforest.
---
Radar Hill lookout and road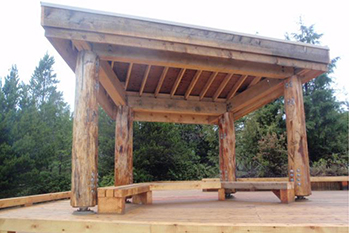 In June, 2016, Radar Hill, known for spectacular views of Long Beach to the south and Clayquot Sound to the north, opened back up to visitors with new viewing platforms, stairs and benches. The road was also repaired and resurfaced to address safety and accessibility issues related to large potholes, buckling stretches of pavement, and road slippage.
---
Kwisitis Visitor Centre roof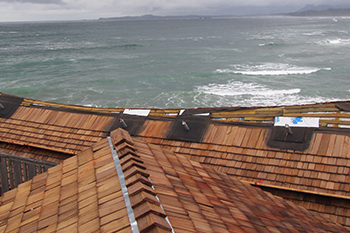 With an average of more than three metres of rain in the region each year, a new roof on the Kwisitis Visitor Centre was a top priority. This iconic building has been captured in thousands of visitor photos, presents two floors of displays and interactive exhibits in English, French and Nuu-chah-nulth, and is the starting point for some of Parks Canada's most popular interpretive programs in the summer months. The new roof was completed in December, 2017.
---
Wick Road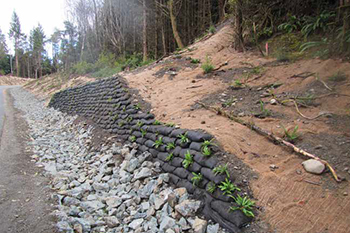 The section of Wick Road between the Shorepine Bog Trail and Wickaninnish Beach was upgraded with new culverts and improved drainage; and, resurfaced to provide visitors with smoother, safer access to beautiful Wickaninnish Beach and the Kwisitis Visitor Centre. The S-curve was realigned to make it safer, along with the addition of coco matting, rocks, and 900 plants to stabilize the banks. The Kwisitis Visitor Centre parking lot and the Wickaninnish Beach parking lots have all been resurfaced. This work was completed in October, 2017.
---
Grice Bay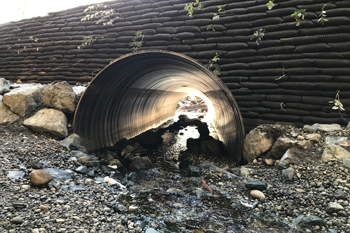 Grice Bay Road Parks Canada has been making a number of improvements to Grice Bay Road since 2017. In November 2019, Grice Bay Road and boat ramp area reopened to users following the replacement of a failing culvert, slope stabilization work and improvements to drainage. The new stream crossing and habitat restoration work will help enhance access to salmon so they can more easily reach important spawning grounds and nursery habitats. The freshly paved road also boasts a newer design, which will improve motorist safety. This work will ensure visitors continue to have safe, reliable, long-term access to beautiful Grice Bay and the surrounding area.
---
Other projects
Upgrades to water and sewer utilities throughout the Long Beach Unit of the national park reserve; 2015-2017.
Slope stabilisation, culvert replacement and resurfacing on Grice Bay Road; completed July, 2016.
Replacement of six failing culverts at Swim Beach on Kennedy Lake; completed March, 2016.
Paving and line painting on Highway 4; completed October 2015.
A lower traffic speed and improved safety at the Rainforest Trail crosswalk; completed September 2015.