Welcome to ʔapsčiik t̓ašii (pronounced ups-cheek ta-shee)
Pacific Rim National Park Reserve
ʔapsčiik t̓ašii (pronounced ups-cheek ta-shee) is the new multi-use pathway, located in the ḥaḥuułi — the traditional territories and homelands — of the Tla-o-qui-aht First Nation and Yuułuʔiłʔatḥ. It extends approximately 25 km from the southern to the northern boundary of the Long Beach Unit of Pacific Rim National Park Reserve. The pathway is paved along its entirety and provides access to numerous points of interest found in the national park reserve. Although the pathway is fairly flat, there are a few short, steep hills and curves along the way.
ʔapsčiik t̓ašii is best enjoyed from mid-April to mid-October.
A Winter Conditions Warning is in effect on the ʔapsčiik t̓ašii during the winter as the area experiences regular rain, wind, and some snow events. As the pathway is not maintained during the winter, debris, including fallen trees, leaves and sometimes snow and ice may be present, and travel is not recommended.
How to pronounce ʔapsčiik t̓ašii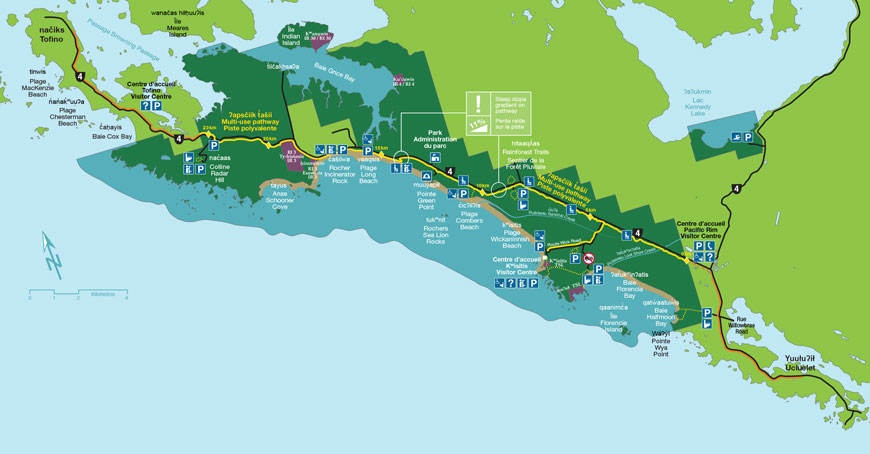 Video Gallery
Building ʔapsčiik t̓ašii - Part 1: Creating a Pathway Together
Building ʔapsčiik t̓ašii - Part 2: Planning the Pathway With Care
Building ʔapsčiik t̓ašii - Part 3: Human-Wildlife Coexistence
Building ʔapsčiik t̓ašii - Part 4: Taking an Adaptive Approach