Wild About Wolves research project
Pacific Rim National Park Reserve
Overview
When you visit Pacific Rim National Park Reserve, you are in wolf territory. Parks Canada is increasing its understanding of local wolf populations and the factors that contribute to potential conflict with people. Wild About Wolves is a five-year research project that looks to further improve coexistence between people and wolves by raising visitor awareness of the species and the importance of sharing space.
---
Traditional territories
Indigenous people have coexisted with wolves for thousands of years. The animal is sacred to their livelihood, their culture and their spirituality. When you show respect to wolves, you show respect to the people who live here year-round. As a visitor to this place, you are in the traditional territories of the Nuu-chah-nulth nations including:
Ahousaht First Nation
Ditidaht First Nation
Hupačasath First Nation
Huu-ay-aht First Nations
Pacheedaht First Nation
Tseshaht First Nation
Toquaht Nation
Tla-o-qui-aht First Nations
Uchucklesaht Tribe
Yuułuʔiłʔatḥ Government
---
Human-Wolf interactions on the rise
In the 1990s, wolves began to recolonize the west coast of Vancouver Island where Pacific Rim National Park Reserve is located. This was a positive development for Parks Canada staff, and for the Nuu-chah-nulth peoples.
However, because wolves had been absent since the 1960s, they returned to a significantly changed environment and a population of people who were less familiar with how to coexist with wolves. Over the past 20 years, human-wolf interactions have increased dramatically in Pacific Rim National Park Reserve and the surrounding area.
It's not: 'What's going on with the wolves?' It's: 'What's going on with us?'
Habituation and food conditioning are two of the leading factors that change the behaviour of wolves. Examples of human behaviour that lead to habituation include: seeking out or attempting to prolong interactions with wolves, and not maintaining healthy boundaries when encountering wolves. Human behaviours leading to food conditioning include: direct feeding, indirect methods (such as leaving behind food or garbage following a visit), and allowing dogs to roam beaches and trails off-leash.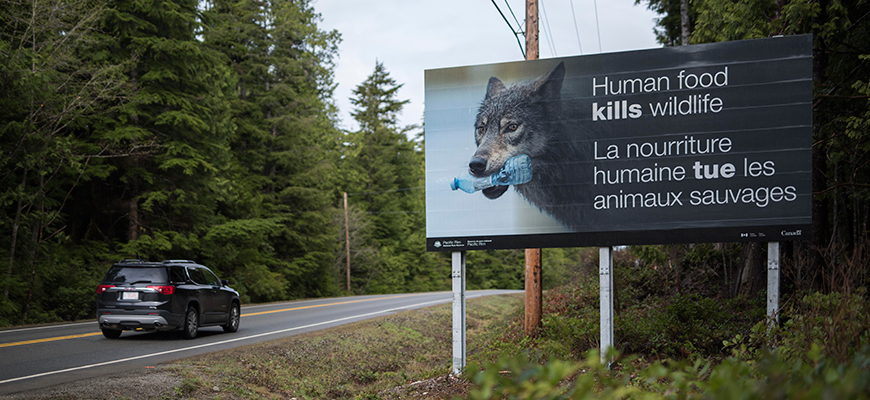 ---
Scope of study
Parks Canada will conduct primary research on wolves in the Long Beach, West Coast Trail and Broken Group Islands units of Pacific Rim National Park Reserve. This research will help Parks Canada and local First Nations make more informed decisions to reduce conflict between visitors and wolves.
---
Research methods
Our team of First Nations partners, researchers, and front line staff, will employ a variety of measures to better understand wolf movements and behaviour, as well as relationships between individual wolves and packs, population density on the landscape, and diet composition. We are also gathering Traditional Knowledge in cooperation with Indigenous Elders, and conducting human dimensions research into the values, attitudes, and beliefs that play a role in driving these conflicts with wolves.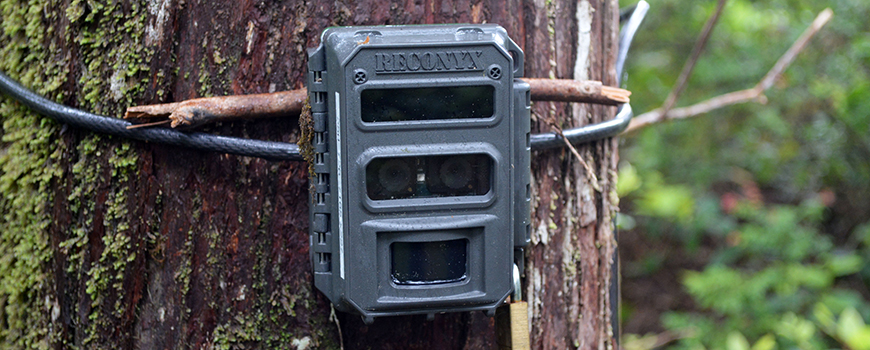 To better understand the movements of wolves and their prey, Parks Canada is installing a network of wildlife cameras in and around Pacific Rim National Park Reserve. Parks Canada will use these findings to help make strategic decisions around reducing conflict between visitors and wolves.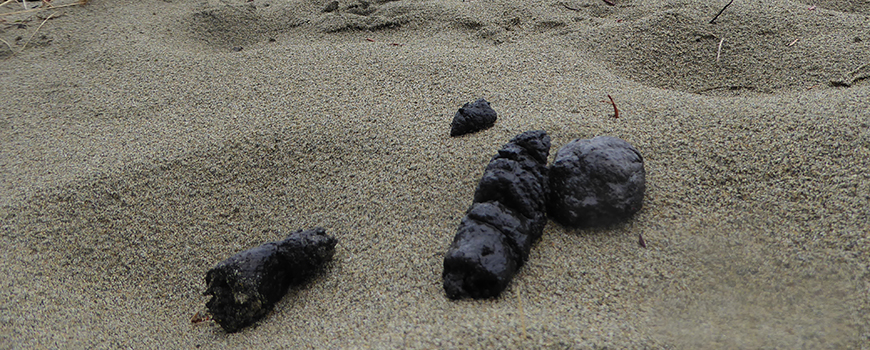 As part of its efforts to better understand local wolf populations, Pacific Rim National Park Reserve is looking for volunteer scat collectors to collect wolf feces samples from the Long Beach area. Scat samples will undergo various types of testing including DNA testing to help researchers understand the diet, ancestry and kinship of local wolves.
Sign up to volunteer:
Email Todd Windle todd.windle@canada.ca. Please include your name, contact information, and home region.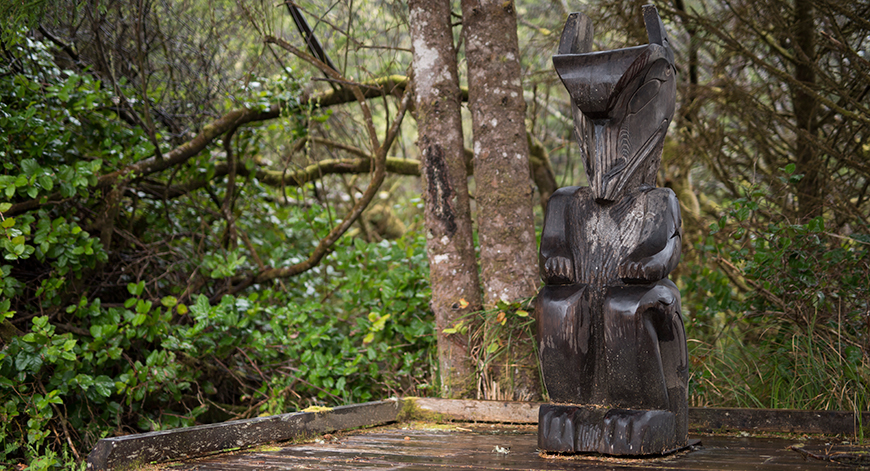 In our culture's language, there's a word that we use: yuutsḥapiʔał. Which means: always be careful about what you do and what you say.
Parks Canada is working with Nuu-chah-nulth Elders to learn how local First Nations have coexisted with wolves for thousands of years. Traditional Knowledge from local First Nations could help Parks Canada reduce negative interactions between people and wolves. It could also shape management techniques, ensuring Parks Canada's approach to reducing conflict with wolves reflects the values of First Nations partners.
Coexistence between people and wolves cannot be achieved by looking at ecological dimensions alone (i.e. wolf ecology). Parks Canada will also be looking into the attitudes, values, and beliefs that affect the decision-making process of visitors and locals – also known as the human dimensions of wildlife.
Coexistence is possible
We need to respect and understand that we're not the only ones here. We live amongst wildlife, and they live amongst us too.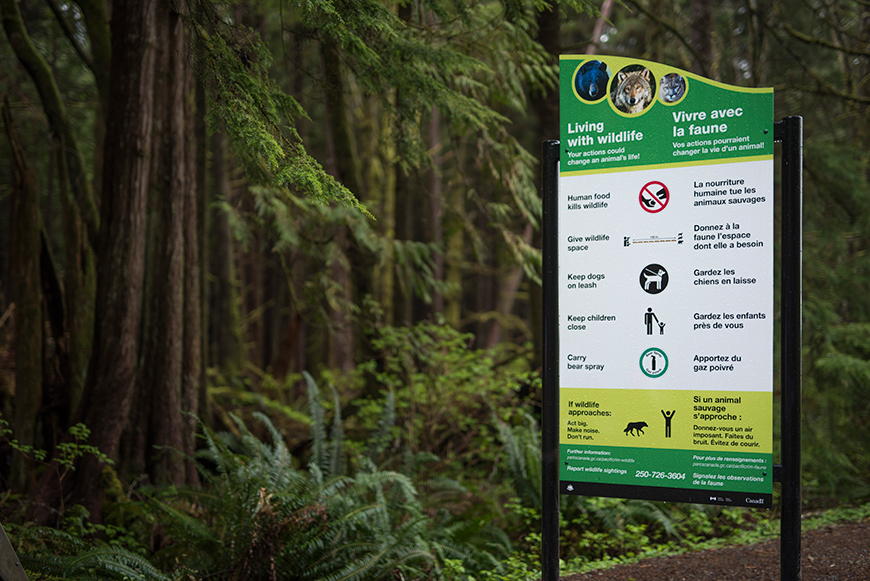 How you can help
You can help reduce immediate and long-term conflict by giving wildlife space, preventing wildlife access to human food and garbage, and keeping your dogs on leash. Educate yourself on the importance of wolves in First Nations culture and learn more about your role in this complex issue. Parks Canada promotes human-wildlife coexistence through education and interpretive programs on topics such as:
What to do if you encounter a wolf
How to keep a BARE campsite
Reporting wildlife sightings
Learn more about how you can help keep the "wild" in wildlife
---
Frequently Asked Questions
What is the difference between habituation and food-conditioning?

Habituation is the loss of an animal's natural wariness of people and of areas with high human activity. Habituated animals may become bold or inquisitive about human activity, and may be encountered at close proximity.

Food conditioning means linking humans and food. Animals that have been fed or have found food left by humans can quickly become food-conditioned. These animals often become increasingly aggressive food-seekers, ultimately posing a danger to people through determined efforts to obtain further food.
Why don't you relocate predators (bears, wolves, cougars)?

Moving a "problem animal" isn't a viable solution for a number of reasons. Any good place to put a predator usually has one living there already. This creates conflict between the two, which will often end in one of the animals being killed by the other, or one of them starving to death.

Relocated predators can travel hundreds of kilometres or more back to their home. After learning unhealthy behaviour (such as eating garbage), animals will prefer to seek out the most calories with the least amount of effort rather than seeking out natural food sources.
If I report wildlife observations, will someone come and kill the animal?

The destruction of a wild animal is always the last option following other human and wildlife management actions. Wildlife experts use visitor reports to track animal activity and behaviour, making it possible for them to spot trends and potential concerns early.

If alerted early to animals approaching humans or populated areas, we may be able to take preventative action such as hazing (scaring) the animal, or educating people on how to avoid attracting predators.

If informed only after the animal has become habituated or food-conditioned, it is often too late to try and save

its life.

See a list of other Frequently Asked Questions about living with wildlife