Silky Beach Pea (Lathyrus littoralis)
Pacific Rim National Park Reserve
ḱwaỷismapt
Once you learn this plant's name, you already know a lot about the silky beach pea (Lathyrus littoralis). Yes, it has silky stems and leaves. It grows near the beach. And…yes, you guessed it…this plant belongs to the pea family.
The Silky Beach Pea is a short, grey-blue perennial herb in the pea family that grows in patches among other coastal dune plants such as the Yellow and Pink Sand-verbena and the Dune Wildrye. They have small grey "hairs" covering their stems and leaves and have white and pink, red or purple, pea-like flowers.
What you might not know is how hard this rare plant works to survive and what we can do to help it.
---
Three reasons to love the silky beach pea:
1.
It faces an uphill battle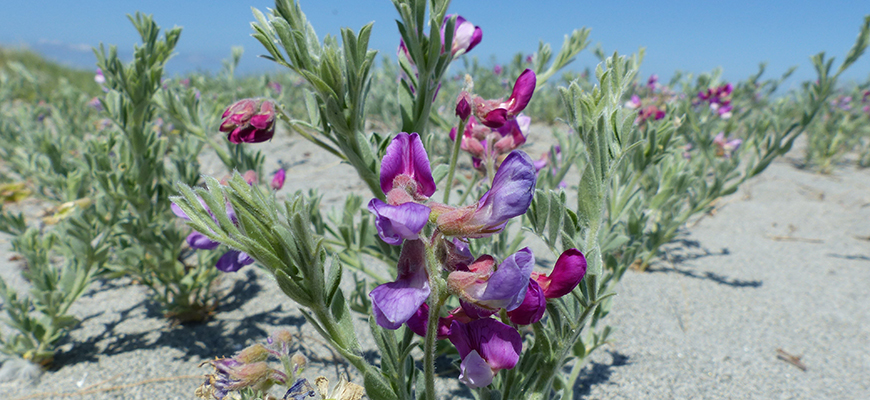 Odds are stacked against the Silky Beach Pea. Deer eat it. Invasive plants push it out. People, dogs and beach fires trample and smolder it. And extreme storms, coupled with rising sea levels due to climate change, wash it off the dunes and sand spits.
Currently, Pacific Rim National Park Reserve is home to 60% of Canada's known population of Silky Beach Pea.
2.
It's equipped for battle (It responds well to Restoration Efforts)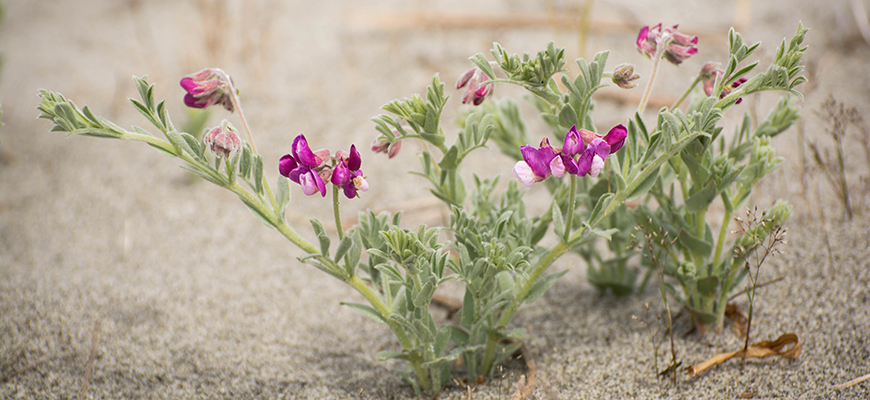 Imagine how hard it is to live on a patch of sand exposed to the elements. The pretty flowers of the silky beach pea mask its true nature: this plant is fully decked out with survival gear.

Hairs armor its stems and leaves and store moisture. They also shield it against blowing sand the way hair protects the scalp.

Its underground stems and deep roots reach far down into the sand to search for water. Its roots also partner with bacteria, helping the plant to capture nitrogen in the nutrient-poor soil.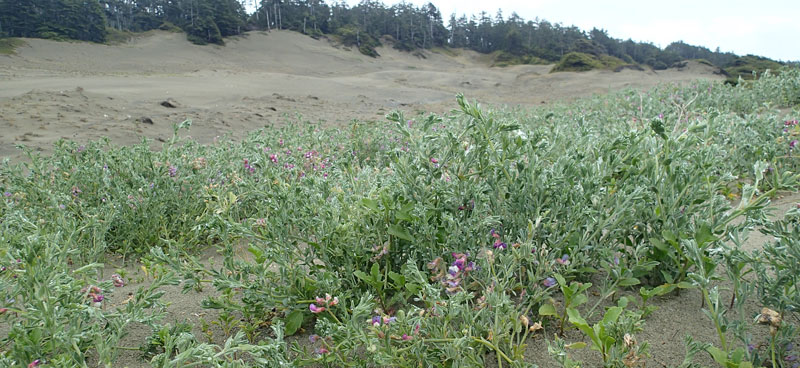 Seeds from the Silky Beach Pea don't spread far on their own, but this plant has another way to get around: by ocean voyage.

Winter storms often wash the plant and seeds off the sand. These castaways float around in the sea, and occasionally, they land on a suitable area where bits of the underground stems attach and grow.

The current population of Silky Beach Pea in Gulf Islands National Park Reserve may have made their way by sea. For many years, when scientists surveyed Sidney Island for rare plants, they didn't find the Silky Beach Pea. And then one year, they did.

The same has happened in Pacific Rim National Park Reserve. Within months of completing restoration work, even in remote places far removed from other known populations like the West Coast Trail, young plants sprouted up in the newly created habitat.
---
Three ways to care for the silky beach pea: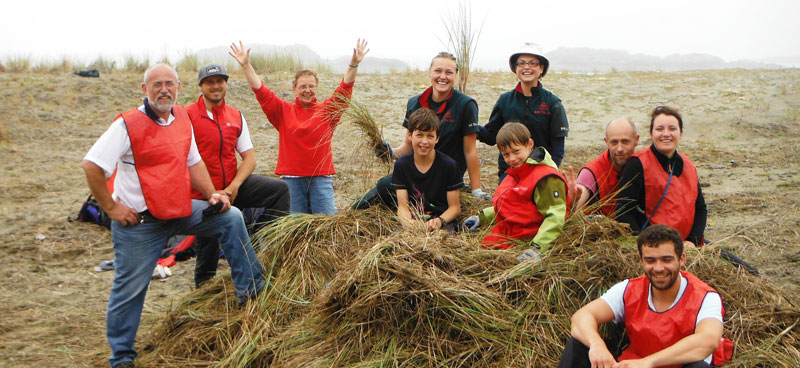 During coastal sand dune habitat restoration projects, scientists at Parks Canada focused on improving the area for many threatened species.
---
Parks Canada's action:
Parks Canada scientists, local non-government organizations (Central Westcoast Forest Society), local First Nations (Tla-o-qui-aht and Ditidaht First Nations) and volunteers have invested hundreds hours to clear invasive plants from coastal sand dunes on Wickanninish beach, at Schooner Cove and on the West Coast Trail at Cheewaht Beach. This work has made space for not only the threatened Silky Beach Pea, but also other rare and at risk plants such as the Pink Sand-verbena, Yellow Sand-verbena, Beach Morning Glory, Beach-carrot, Black Knotweed and Dune Wildrye.
Action you can take:
Consider volunteering for Parks Canada or join a local conservation group that is involved in restoration activities at a beach near you.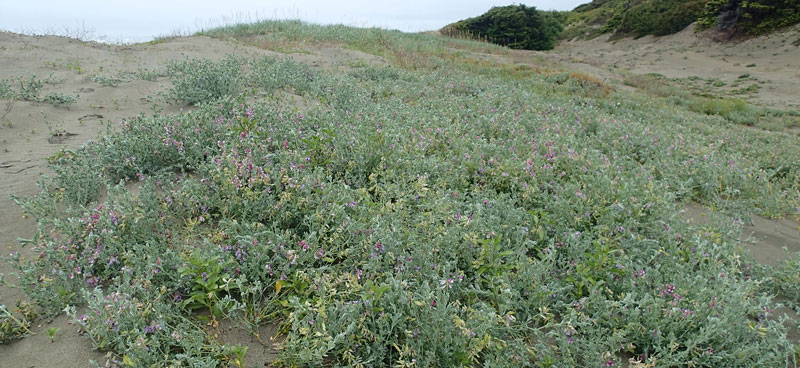 The Silky Beach Pea in Pacific Rim National Park Reserve grows in a harsh and highly dynamic environment. Temperature changes, blowing sand, introduced and invasive species, and winter storms threaten to overcome it or wash it away. Dune ecosystems are rare in Canada and they need all the help they can get.
---
Parks Canada's action:
Every year, Parks Canada conducts monitoring work and invasive species removal at the Wickaninnish dunes and Schooner Cove, clearing invasive plants around the Silky Beach Pea. The rare native plants can then spread quickly to fill in the newly opened space.
Action you can take:
When you visit the beach, be mindful of your impacts. Do not trample plants that grow in the area above the high tide line as these plants already have a tough job to survive. You don't want to make it any harder for them!
3.
Think ecosystem connections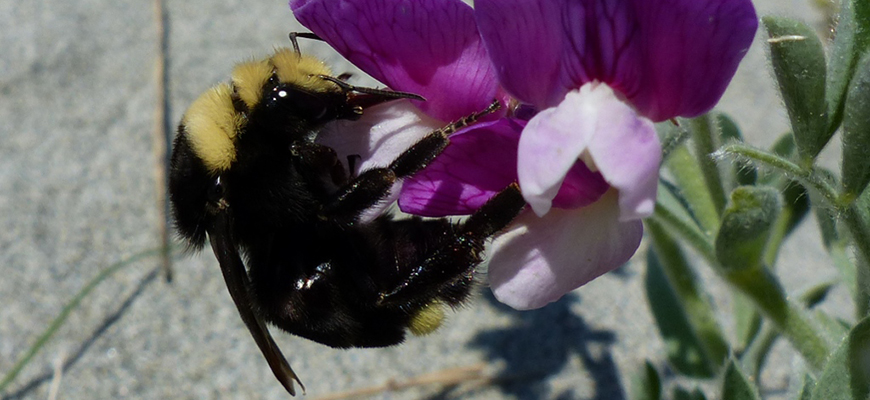 Hishuk ish tsawalk – everything is connected to everything else in nature. By restoring the coastal sand ecosystem, we can help the Silky Beach Pea and other rare plants. We don't yet know all the ways these plants help other creatures.
---
Parks Canada's action:
Parks Canada has undertaken propagation and planting experiments to learn how to propagate and grow these plants in a greenhouse and then plant Silky Beach Pea to increase local populations. Augmenting populations will help increase population resiliency to climate and environmental changes and may have positive outcomes for other species.
Action you can take:
Grow native plants in your garden or on your balcony. The local pollinators and other critters will be pleased you did.
Learn more about the silky beach pea and species at risk recovery :