Grey Whale (Eschrichtius robustus)
Pacific Rim National Park Reserve
maʔak
If you spend enough time on the west coast of Vancouver Island, chances are you've seen the distant spout of a Grey Whale passing by while looking out at the ocean from shore. Keep reading to learn more about these endangered whales that frequent our coast, what Parks Canada is doing to protect them, and what you can do to help.
---
Three Reasons to love Grey Whales:
1.
They're the ultimate west coast travelers.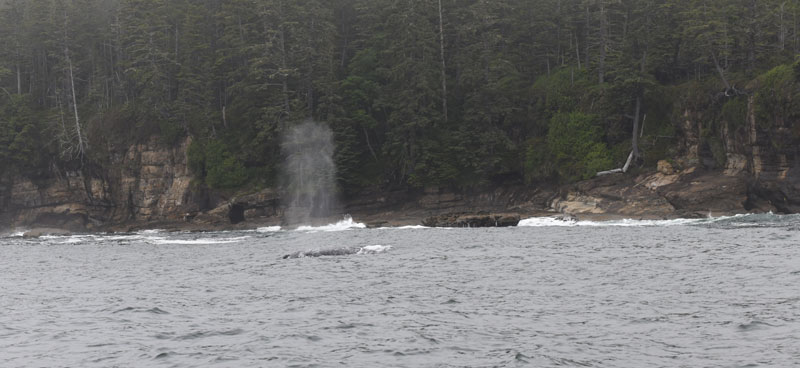 Have you visited Pacific Rim National Park Reserve as part of a lengthy west coast road trip? We guarantee it can't compete with the 15,000 to 20,000 km annual migration of the Eastern Pacific Grey Whale. After spending winters at their breeding grounds in Mexico, Grey Whales begin an epic journey north to feed in the colder waters of Alaska before returning once again.

There are two exceptions; a small population of whales named the "Pacific Coastal Feeding Group" that spend their summers feeding in British Columbia and Washington waters before returning to Mexico for the winter, and the "Grey Whale Western Pacific population" who have summer feeding grounds in Russian waters.
2.
They are huge-ly important.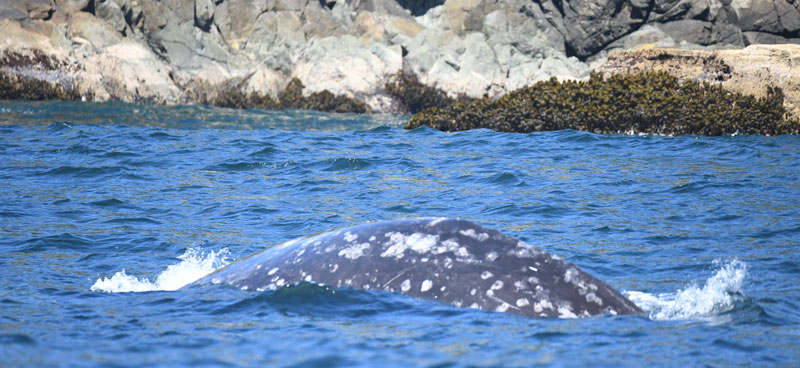 On average, a Grey Whale consumes 1,100 kg of food daily, and they have a unique way of doing it! Grey Whales feed mostly on small bottom-dwelling invertebrates by scooping and filtering large amounts of sediment through their baleen. In doing so, huge amounts of sediment – and the life it contains – is suspended closer to the surface, providing sea birds and fish with an easy meal as well as re-introducing important nutrients for other marine life throughout the water column. They are huge animals that play an equally large role in their marine environment.
3.
They are big animals facing even bigger threats.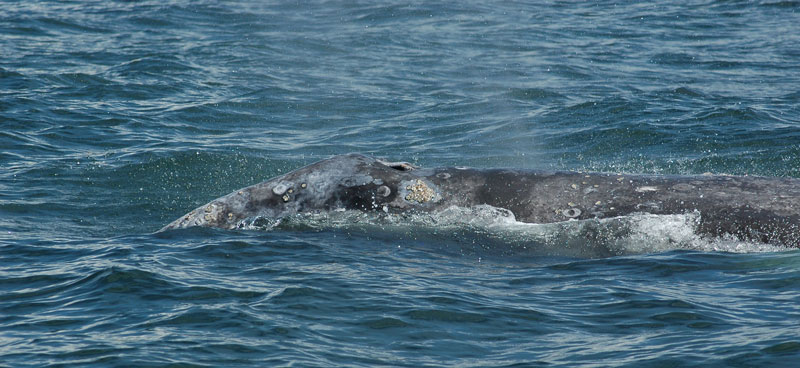 The scientific name for the Grey Whale is Eschrichtius robustus; "robustus" meaning strong. They are powerful animals as their name suggests, however, they are vulnerable to a number of threats. Human activity including underwater noise, toxic spills, and disturbance to bottom feeding habitat pose risks for Grey Whales. In addition to this, they are struggling to adapt to a changing environment with fluctuating food abundance. For this reason, feeding "rest stops" along their migration corridor, such as Vancouver Island, are increasingly important for hungry Grey Whales.
---
Three ways to care for Grey Whales:
1.
Be a citizen scientist.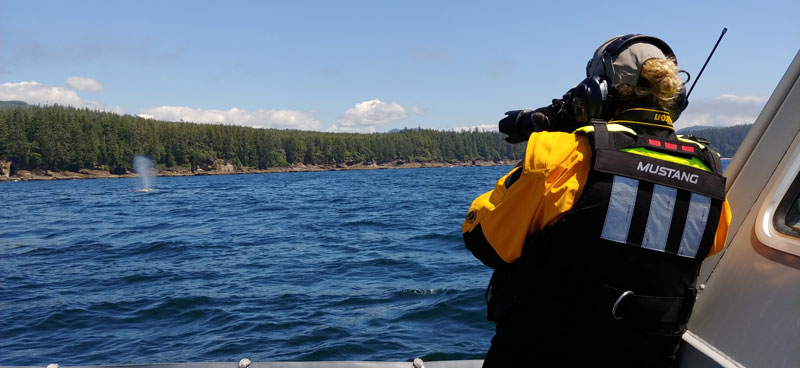 Parks Canada's action:
Parks Canada actively monitors Grey Whales found in the waters of Pacific Rim National Park Reserve through photo identification research. Conducting these surveys reveals information about population structure, habitat use, social interaction and the health of individuals. Identifying individuals within Pacific Rim National Park Reserve is especially important for developing our growing understanding of the Pacific Coastal Feeding Group that use the west coast of Vancouver Island as important feeding grounds.
Action you can take:
You can help contribute to this research. If you observe a Grey Whale or other cetaceans (whales, dolphins, porpoises), report your sighting to a Pacific Rim National Park Reserve team member or through the BC Cetacean Sightings Network. You can easily do this from your mobile phone by downloading the Whale Report App from their website.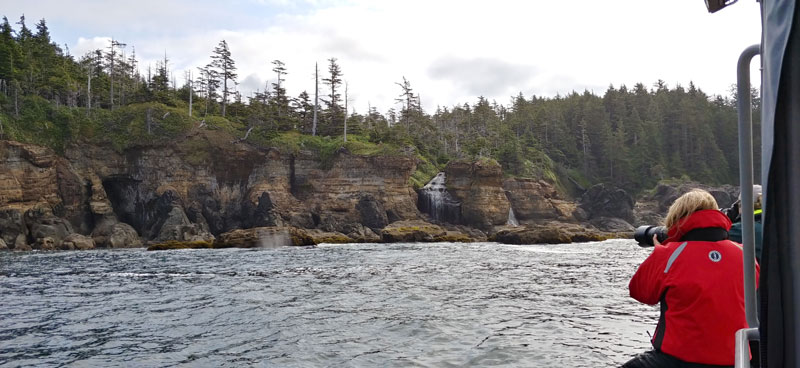 Parks Canada's action:
The Parks Canada Agency and Be Whale Wise provide boat users with information on the best ways to help whales while on the water, including minimum approach distances. Pacific Rim National Park Reserve enforces these practices in national park reserve waters to help keep Grey Whales safe from boat traffic and lessen disturbance to animals using habitat within the national park reserve.
Action you can take:
If you are on the water and see a Grey Whale, give them space. Boaters must keep a minimum distance of 100 meters away from Grey Whales. This increases to a minimum distance of 200 meters when the animals are resting or there is a calf present. Use the acronym N.E.W.S. to remember safe viewing practices: keep your boat in neutral, enjoy the view from a distance, wait until the whales are safely out of the way, and then slowly leave the area.
More information on the Canadian Marine Mammal Regulations

Be Whale Wise guidelines (including Canadian and US guidelines)
3.
Keep their home clean.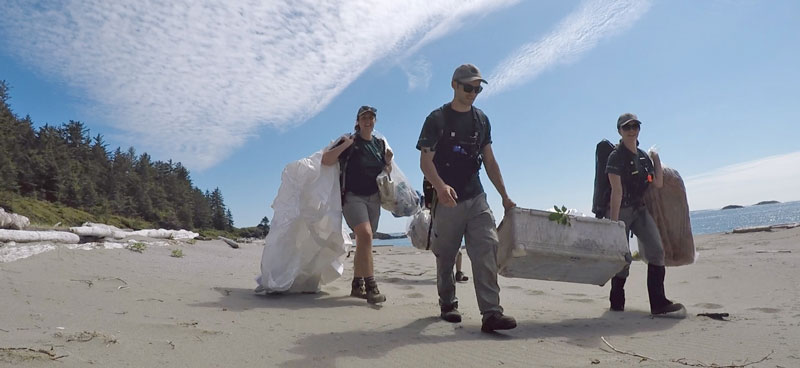 Parks Canada's action:
Entanglement in fishing gear and other marine debris is a serious risk for Grey Whales. Pacific Rim National Park Reserve is proud to host shoreline cleanups in the national park reserve, often in collaboration with other organizations like Surfrider Foundation Pacific Rim. Pacific Rim National Park Reserve has collection sites for marine debris throughout the national park reserve. In the event of an entangled whale, Parks Canada has team members trained to assist with a response.
Action you can take:
Help reduce marine debris to make oceans a safer place for marine mammals. Next time you are enjoying the coast and see marine debris, pack it out with you and properly dispose of it. Parks Canada is partnered with the Great Canadian Shoreline Clean-up; check out their website and get involved in a shoreline clean-ups in the national park reserve or in your own community. If you see an entangled Grey Whale when you are in Pacific Rim National Park Reserve, please call Parks Canada Emergency Dispatch (1-877-852-3100 or 250-726-3604) or speak directly to a Parks Canada team member to report the incident. You can also report any violations or incidents involving marine mammals to Fisheries and Oceans Canada's 24/7 Observe, Record, Report Line: 1-800-465-4336.