K'angGuu Gwaay.yaay, Plant Enclosures
Gwaii Haanas National Park Reserve, National Marine Conservation Area Reserve, and Haida Heritage Site
New Visitor Experience: K'angGuu Gwaay.yaay, Kunga Island, plant enclosures
We invite YOU to visit the cultural plant enclosures on K'angGuu Gwaay.yaay, Kunga Island, near T'aanuu Llnagaay.
As you walk through the forest, take your time, and breathe deep. Listen for birds singing and the sound of the wind in the trees as you walk inland through the mossy, somewhat bare forest floor. As you get closer to a fenced in area of forest, listen to the sounds change as you approach this tiny oasis of healthy and abundant forest understory. Look for flowering plants, shrubs and young trees growing inside.
These enclosures were rebuilt in 2023 after winter storms damaged earlier enclosures at the same sites. The enclosures were originally built 30 years ago to study the impact of deer browse on the forest. Now they are tiny pockets of deer free refuge that illustrate the impacts of introduced species.
Access the enclosures from the southwest corner of K'angGuu Gwaay.yaay, Kunga Island. Follow the yellow markers and walk carefully. The enclosures are approximately 10 m and 150 m from the beach. The route is marked but it is not a maintained trail.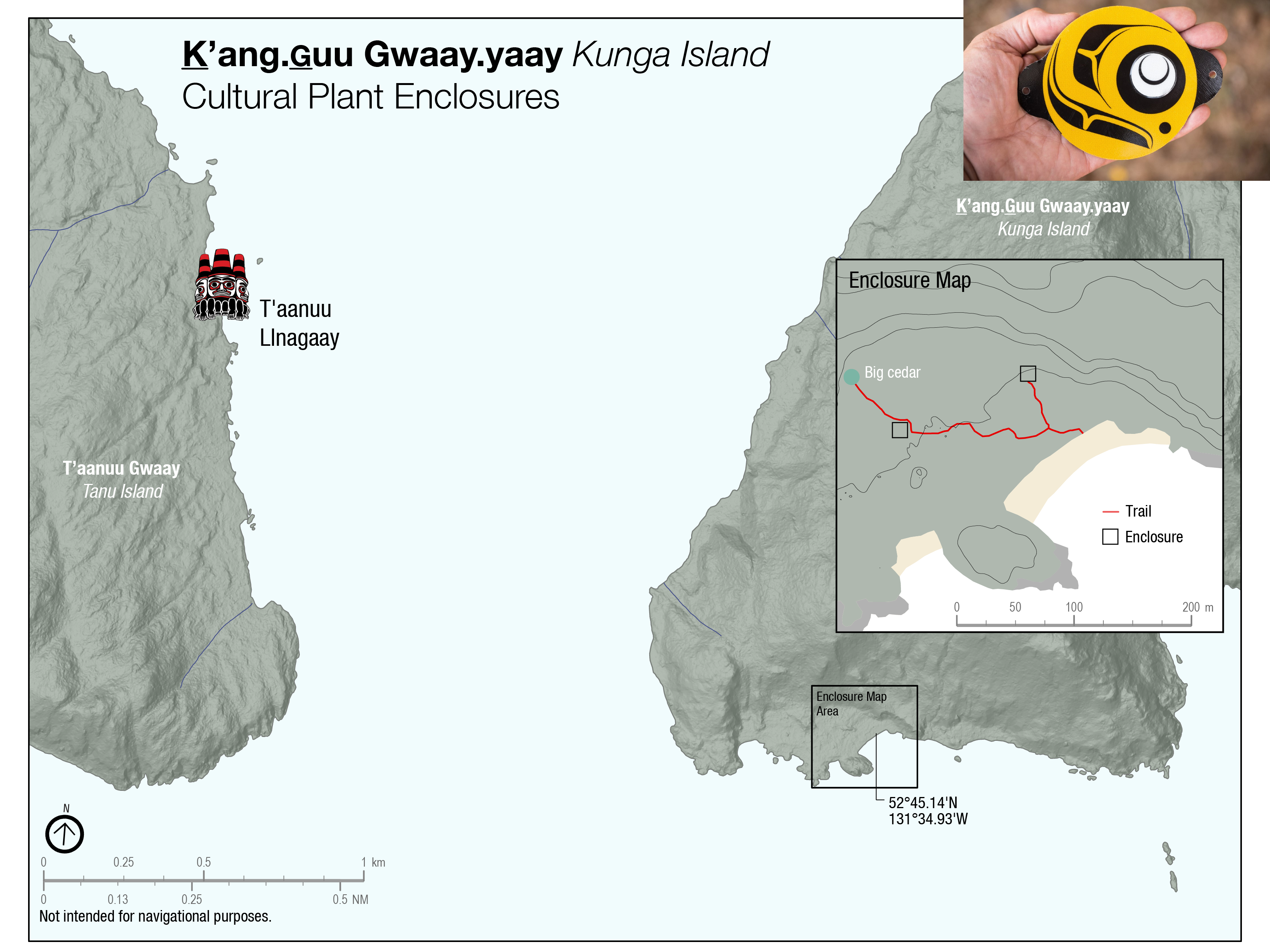 Map of cultural plant enclosures on Kunga island. © Parks Canada
Mossy Wonderland or Moss Desert?
Stand in the forest of Gwaii Haanas. A green carpet of moss and a tall canopy of trees surrounds you. Though the moss-floored forest is beautiful, it is also drastically different from the forests that stood here for thousands of years.
Many native wildflowers, shrubs, young trees, songbirds, and insects are missing. Plants important for Haida art, food, tools, and medicine are hard to find.
What happened?
In 1878, settlers introduced Sitka black-tailed deer to Haida Gwaii. The mild winters and lack of predators allowed the deer population on Haida Gwaii to explode. By eating all the vegetation, they can reach, deer hinder the growth and survival of young plants. Deer have destroyed most of the forest understory on Haida Gwaii.