Parks Canada's Dark-Sky Preserves are havens of night in an increasingly over-lit world.
---
In 1994, Los Angeles got a rare reminder that there was in fact a universe beyond Hollywood.
In that year, the city suffered a major blackout as a result of the Northridge earthquake. According to newspaper reports, a number of anxious residents called emergency centres to report a strange silvery cloud in the sky.
That cloud was in fact the Milky Way. The callers were looking out at their own galaxy for the first time.
For Parks Canada, the Milky Way is as much a part of nature as forests, mountains and seascapes. Thirteen Parks Canada places have Dark-Sky designations: twelve are Dark-Sky Preserves and one is an International Dark-Sky Park.

A partisan of darkness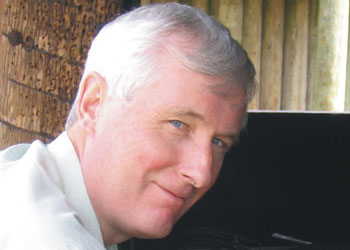 Dr. David Welch has been working to protect the night for more than two decades. A physical geographer and retired Parks Canada scientist, he is currently Chair of the Dark Skies Advisory Group of the International Union for Conservation of Nature.
During his career as Earth Sciences Advisor and (later) Head of Environmental Quality at Parks Canada, Dr. Welch studied a range of air quality issues including acid rain, climate change and air pollution. Light pollution was "tucked away in a small corner of all that," he says.
But the topic caught his attention, and working with Parks Canada's Asset and Environmental Management team, he helped draft the lighting guidelines for Dark-Sky Preserves.
These requirements were adopted by the RASC and, eventually, by the International Dark-Sky Association, which made them part of their recommendations for responsible lighting.
Parks Canada's Dark-Sky Preserves have many visitor activities related to dark skies, including.
Bruce Peninsula National Park
The site of Dark Skies Weekend, hosted by the Bluewater Astronomical Society every July. The park also offers weekly night hikes in both summer and fall.
Jasper National Park
The annual Jasper Dark Sky Festival in October caters to all levels of astronomy fans.
Wood Buffalo National Park
The world's largest Dark-Sky Preserve. At its annual Sky Festival in late August, members of the Salt River First Nation present drumming and hand games, and share Indigenous stories of the night skies.
Islands of night
Light pollution can interfere with ecological processes that depend on the natural cycle of sunlight and darkness.
Bats, owls, insects and amphibians all depend upon darkness to mate and find food. Certain species of birds navigate using the stars.
In many animals, including humans, exposure to light at night interferes with the production of the hormone melatonin. Some research has linked suppression of melatonin with an increased risk of breast and prostate cancer in humans.
Dark-Sky Preserves are reclaiming the night for people and wildlife. To receive official designation, they must meet standards of responsible lighting and public outreach.
These areas of darkness help conserve energy, reduce greenhouse gas emissions, protect the night for wildlife, and allow visitors to see where they are in the cosmic scheme of things.
Dr. Welch is pleased by the country's progress in reclaiming our night skies, but he looks forward to the day when pure darkness is restored to all our protected areas. "My original idea," says, "was that every park should be a Dark-Sky Park by default."
---
---
Related links