Jasper National Park's Dark Sky Preserve
Jasper National Park
Are you an avid stargazer or simply enjoy the tranquility and awe of looking up into the night sky? If this sounds appealing to you, you can witness Jasper National Park's dark sky 365 days a year.

During the month of October we show our appreciation and celebrate the night sky with dark sky month. This is a great time to visit the park and take in the festivities at the Annual Jasper Dark Sky Festival in October. If you can't make it during that time, Parks Canada still has lots of dark sky programming throughout the month (and year) that showcases this natural treasure.

Fun fact: Encompassing over 11,000 km2, Jasper National Park is the second largest dark sky preserve in the world!
So what exactly is a Dark Sky Preserve?
On March 26, 2011 the Royal Astronomical Society of Canada (RASC) officially designated Jasper National Park a Dark Sky Preserve. Dark-Sky Preserves make a special commitment to protect and preserve the night sky and to reduce or eliminate light pollution in all its forms. Jasper National Park and its residents are taking extra steps, such as replacing older street lights and improving Parks Canada operations to have a minimal impact on an unimpeded night sky. We also host a number of special programs throughout the fall and winter months to highlight the importance of our Dark Sky status and to promote better awareness of how important the reduction of light pollution really is.
Top 4 tips for great night sky viewing in Jasper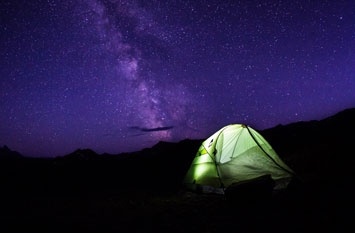 1. Best locations
Pyramid Island, Maligne Lake, Old Fort Point and the toe of Athabasca Glacier are four outstanding sites within the park which are accessible year round for dark sky viewing.
2. Bring your camera
Dark Sky viewing is best when you can take it home with you. Invest in a Digital SLR, a wide angle lens with a low aperture and a tripod. There are a number of easy, excellent tutorials on the web and beginning level images are easy to take with most beginner level camera kits.
3. Check the Annual Jasper Dark Sky Festival
The Annual Jasper Dark Sky Festival in October caters to all levels of astronomy fans with everything from speakers, to workshops, to kids programs to night time star parties. Make a point of attending this event to get the full scoop on all things astro!
4. Camp under the stars
Roadside campgrounds are found in a variety of striking locations around the park - from Pocahontas in the east to Wilcox and the Icefield Campgrounds along the Icefields Parkway in the south. Take a tent or an RV and set up a cozy and crackling campfire and get immersed in Jasper's Dark Sky by sleeping underneath the stars.
Or, for a truly immersive experience, try camping at one of Jasper's nearly 100 backcountry campsites. Some excellent locations to experience our dark sky are Big Bend, Surprise Point in the Tonquin Valley, and Jacques Lake.
Starry Nights