Avalanche Safety
Chilkoot Trail National Historic Site
Chilkoot Trail National Historic Site of Canada - Log Cabin Mountain ATES
Chilkoot Trail National Historic Site of Canada - Log Cabin Mountain Avalanche Terrain
Avalanches are a common occurrence in the Chilkoot Trail / White Pass area. Steep slopes and deep snowcover combine to produce this hazard. Even small avalanches can be deadly!
---
Basic guidelines
Travel through avalanche terrain requires a skill-set for evaluating avalanche risk. As a first step, take an avalanche course.
Travel in avalanche terrain requires the use of specialized equipment (avalanche transceiver, probe and shovel). Develop effective rescue techniques through continual practice, and instruction from a skilled user.
Backcountry users should be well informed about the type of terrain they will encounter when embarking on a backcountry trip in the winter.
It is important to check current weather conditions and forecasts when planning a trip to the Chilkoot Trail / White Pass area.
You are responsible for the evaluation of snow stability, avalanche hazards, and decisions concerning safe route selection.
Local information
The Yukon Avalanche Association is a great source of information. There is an avalanche bulletin for the Chilkoot Trail/White Pass area and a comprehensive listing of weather resources (current conditions, forecasts, webcams) for the area.

Top of Page
Avalanche Terrain Exposure Scale (ATES)
The Avalanche Terrain Exposure Scale has been developed by Parks Canada to assist groups in choosing appropriate terrain for winter backcountry travel. These ratings describe the level of commitment, and exposure to avalanches that different areas offer.
Avalanche Terrain Exposure Scale (ATES)

| Description | Class | Terrain Criteria |
| --- | --- | --- |
| Simple | 1 | Exposure to low angle or primarily forested terrain. Some forest openings may involve the runout zones of infrequent avalanches. Many options to reduce or eliminate exposure. No glacier travel. |
| Challenging | 2 | Exposure to well defined avalanche paths, starting zones or terrain traps; options exist to reduce or eliminate exposure with careful route finding. Glacier travel is straightforward but crevasse hazards may exist. |
| Complex | 3 | Exposure to multiple overlapping avalanche paths or large expanses of steep, open terrain; multiple avalanche starting zones and terrain traps below; minimal options to reduce exposure. Complicated glacier travel with extensive crevasse bands or icefalls. |
These ATES ratings are intended to supplement pre-trip planning material. Review ATES ratings in addition to reading guidebooks, studying maps and photos, talking to peers and local users, checking weather and avalanche conditions. All these resources together will give you a better sense of the route you are choosing.
By using the ATES you can begin to measure your skills, experience and risk tolerance against the landscape.
How much experience do I need for these trips?
Simple (Class 1) terrain requires common sense, first aid skills, and the discipline to respect avalanche warnings. Simple terrain is usually low avalanche risk, ideal for novices gaining backcountry experience. These trips may not be entirely free from avalanche hazards, and on days when the avalanche conditions are poor, you may want to re-think any backcountry travel that has exposure to avalanches – stick to groomed x-country trails.
Challenging (Class 2) terrain requires skills to recognize and avoid avalanche prone terrain – big slopes exist on these trips. You must be able to assess snowpack stability in the absence of a Public Avalanche Bulletin, perform avalanche self rescue, basic first aid, and be confident in your route finding skills. You should take an Avalanche Skill Training Level 1 course prior to traveling in this type of terrain. If you are unsure of your own, or your group's ability to navigate through avalanche terrain – stick to simple terrain.
Complex (Class 3) terrain demands a strong group with years of critical decision-making experience in avalanche terrain. There can be no safe options on these trips, forcing exposure to big slopes. A recommended minimum is that you or someone in your group should have taken an Avalanche Skill Training Level 2 course and have several years of backcountry experience. Be prepared! You must be able to assess snowpack stability in the absence of a Public Avalanche Bulletin and ensure everyone in your group is up for the task and aware of the risk. This is serious country - not a place to consider unless you're confident in the skills of your group.
Disclaimer
There are inherent risks in backcountry travel, and most of the routes described here will at times be unsafe due to potential snow avalanches. The Parks Canada Agency has done its best to provide accurate information and to describe the terrain characteristics typical of each general region. However, it is up to the users of this information to learn the necessary skills for safe backcountry travel, access additional trip planning materials, and to exercise caution while traveling through the backcountry in any national park.
Users of this information do so entirely at their own risk, and the Parks Canada Agency disclaims any liability for injury, injury resulting in death or damage to anyone undertaking a trip into any of the regions described. This information is no substitute for experience and good judgment.

Top of Page
Chilkoot Trail ATES
Log Cabin Mountain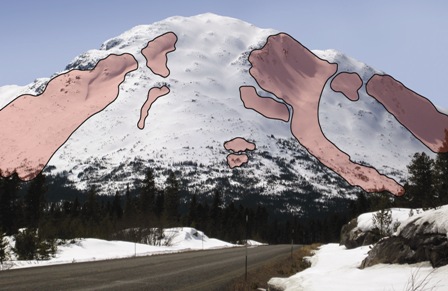 Log Cabin Mountain is the most popular area within Chilkoot Trail National Historic Site for alpine touring, telemark skiing and backcountry snowboarding. The terrain on the lower third of the mountain is generally low angled (<15 degrees) with gladed trees and open meadows. Above treeline the terrain steepens. Parks Canada has rated Log Cabin Mountain using ATES. This area contains Class 3 - Complex terrain.
Travel to Lindeman and Bennett
The typical route followed by cross-country skiers and snowmobilers from the Log Cabin Parking Lot travelling along the railway tracks to Bennett and Lindeman Lake is rated as Class 1 - Simple Terrain. Other overland routes to Lindeman may involve exposure to Class 2 - Challenging avalanche terrain.
Chilkoot Pass
Travelling over Chilkoot Pass in the winter will involve Class 3 - Complex Terrain. Extreme avalanche conditions often exist along the Chilkoot Trail in the winter, especially between the Sheep Camp and Deep Lake, and in Moose Creek Canyon. Campgrounds may be unsafe; Happy Camp is located in a run out zone. Extreme avalanche conditions can also develop elsewhere in the park given the right set of conditions. Travelling over Chilkoot Pass in the winter is a big expedition suitable only for those with prior experience with multi-day winter camping, routefinding and terrain evaluation. This trip is not suitable for Custodial Groups in the winter.
Custodial Groups
Please contact Parks Canada for further information regarding winter travel with Custodial Groups. Site staff can provide assistance in helping Custodial Groups assess route options for winter travel in the Chilkoot Trail National Historic Site.