Language Ambassador Program
HMCS Haida National Historic Site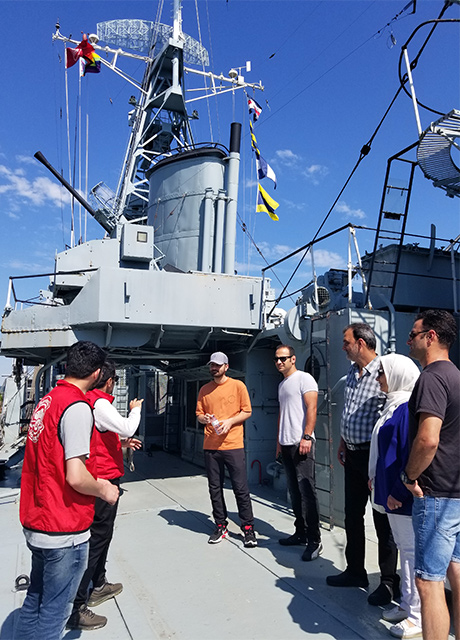 The Language Ambassador Program is an amazing opportunity to connect with Canadians from non-official language communities and showcase HMCS Haida National Historic Site.
The Language Ambassador Program helps create a welcoming and inclusive environment for newcomers from different language backgrounds, provides a more accessible and engaging experience for visitors, and highlights the cultural diversity that makes Canada unique.
Since 2017, Parks Canada, in collaboration with Mohawk College, has delivered Language Day programing. These Language Days provide an opportunity for a wider range of communities to learn about Canadian history in their native language while visiting HMCS Haida - the Royal Canadian Navy's "most fightingest ship"!
Language Days at HMCS Haida provide a unique opportunity to experience the site's history in a new way. On these special days, Language Ambassadors from Mohawk College welcome visitors and help share some of the historic site's amazing stories in several different languages. With Parks Canada staff, the volunteers will offer 1-hour guided tours aboard one of the most famous ships in the history of Canada.
Come visit us on Language Days and:
Feel welcome in your own language at one of the most fascinating historic sites Parks Canada has to offer!
Learn about our shared history in your first language!
Get connected to your community and share with them your wonderful experience at HMCS Haida!
Language Days 2023
This year, Parks Canada and Mohawk College are excited to celebrate new Language Days on the ceremonial flagship of the Royal Canadian Navy! On each Language Day, our Language Ambassadors from Mohawk College will be available on the following dates and times:
Persian Day: Thursday June 1st from 5pm to 7:30pm
Ukrainian Day: Sunday June 11th from 10am to 12:30pm
Pashto Day: Thursday June 15th from 5pm to 7:30pm
Spanish Day: Saturday June 24th from 10am to 12:30pm
New for 2023: Timed ticketing
Tickets are available for a 45-minute tour at specific time slots through the links below. Please note tickets must be purchased in advance.
Language day tour numbers are limited, so be sure to book early to reserve your space!
To purchase your timed ticket for Language Days, please visit the links below:
Adult admission is $4.25 + processing fee, senior admission is $3.75 + processing fee, and admission for youth 17 and under is free!
You can find visitor guides in 简体中文, Italiano, Español, فارسى, Polski or العربية on our Visitor Guide page.
For further information, please contact Ajmal Ramyar, Language Ambassador Program Coordinator, at ajmal.ramyar@pc.gc.ca.