The competitive fur trade period: 1760-1821
The Forks National Historic Site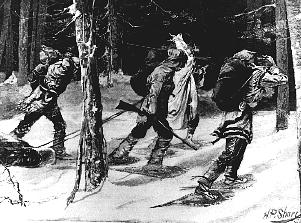 The owners of the Hudson's Bay Company had hoped that the capture of Québec by British forces in 1759 would give the HBC uncontested control of the fur trade in North America. They were greatly mistaken: Scottish traders quickly moved into Montréal and took advantage of the expertise among les habitants in the fur trade. With French-speaking voyageurs, the traders or Pedlars from Montréal used the colonial French routes to gain access to the interior fur resources. The Pedlars allied themselves with Montréal merchants and English supply companies to become the North West Company (NWCo.). By coming inland they gained control over most of the fur trade, since the trappers found it more convenient to trade in their territories, rather than deal with middlemen, or make the long and difficult journey to Hudson Bay.
The inland fur trade required men to transport the furs and trade goods, which in turn created a need for a steady source of provisions to feed these men - The Forks was to be instrumental in providing both. Contact between the voyageurs and traders and Indigenous women had the inevitable result of producing marriages and children. These children and their descendants were neither European nor Indigenous, either racially or by outlook, and in time were to become the Métis. By the 19th century, the Métis made up a significant portion of the North West Company's workforce.
The inland fur trade also required large amounts of food for the men transporting and trading furs (often as much as four months worth of provisions had to be sent along). The Forks' attraction to Indigenous groups was not lost on the fur trade companies: it held rich food resources along an important transportation route. Many provisions came from the area: fish, waterfowl, game and, most important of all, bison. Some Métis settled near The Forks after 1804 to become commercial bison hunters and contract freighters for the North West Company. In 1810-11, the NWCo. built Fort Gibraltar I at The Forks to handle its business in the area.
The Hudson's Bay Company was forced to build inland trading posts since the NWCo.'s clever strategy cut severely into their profits. In response, the HBC built a trading post, Fort Douglas, near The Forks to trade for furs and buy what provisions they could. One of its shareholders, Lord Selkirk, settled dispossessed Scots nearby to support the post and supply the company with agricultural produce. The Selkirk settlers, as they quickly became known, were to be among the founders of the new settlement that sprung up around The Forks: the Red River Settlement.