The Winnipeg General Strike
The Forks National Historic Site
The Winnipeg General Strike of 1919 was one of the most influential strikes in history!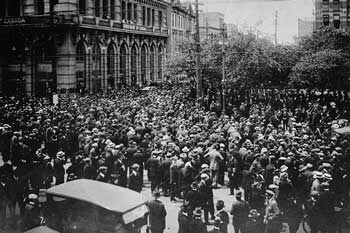 For many years, the country had been subject to growing inflation, low wages and terrible working conditions. After the end of the First World War, hard times settled fiercely on Canada with massive unemployment, resulting in the overwhelming discontent of labourers across the nation. Canadians were angry – with some demanding better wages and working conditions and others demanding jobs.
As unrest grew, on May 1, 1919, Winnipeg's building and metal workers went on strike for higher wages and within a few weeks, the strikers were joined by 30,000 union and non-union workers in support of the strike. Everything in the city came to a halt and sympathy strikes broke out across the country.
On June 17, the Federal government ordered the arrest of ten strike leaders – one of them being Abraham Albert (AA) Heaps, a person of national historic significance recognized for his later work as a Member of Parliament who played a key role in introducing social welfare legislation to Canada.
Four days after the strike leaders were arrested, about 25,000 workers gathered in the downtown streets in protest. On this day, known as 'Bloody Saturday', the Winnipeg mayor read the Riot Act and called in the Royal North-West Mounted Police who charged the crowd, and beat the strikers with clubs.
Faced with the forces of both the government and employers, the strikers returned to work on June 25. The General Strike left its mark, resulting in a wave of bitterness and controversy across the country.
On June 7, 1986, Parks Canada, along with the Historic Sites and Monuments Board of Canada, declared the Winnipeg General Strike an event of National Historic Significance. A plaque was installed at 510 Main Street near William Avenue in Winnipeg, Manitoba to commemorate the historic event.