Indigenous settlement and the Hudson's Bay Company: 1812-1850
The Forks National Historic Site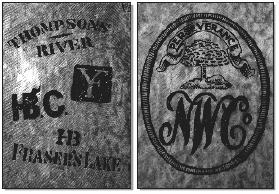 Under severe economic pressure brought about by their fierce competition, the Hudson's Bay Company and North West Co. amalgamated in 1821, keeping the older company's title. Fort Gibraltar II (the original Fort Gibraltar was destroyed in 1816) was chosen as the main HBC post at The Forks and was renamed Fort Garry, after Nicholas Garry, a major shareholder in the company and the man sent from London to oversee the amalgamation. The Forks became the centre of settlement in Rupert's Land (what is now western and northern Canada) and a major debarkation point for traders, explorers and Christian missionaries entering the North-West. At the Red River Settlement, Cree and Ojibway, Métis and Selkirk settlers were joined by retired Scottish fur traders and a large influx of English-speaking "country born" (descendants of Indigenous and British people) and Métis voyageurs who were no longer needed after the amalgamation. This diverse group of people would build a thriving settlement of nearly five thousand people by the middle of the 19th century.
Throughout this era, the settlement was greatly dependent on the HBC and in many ways was a 'company town'. The company formed the official government of the settlement, it had an official monopoly on business, it was the largest landowner and, in one way or another, everyone in the settlement was somewhat dependent economically on the company. The owners of the company, however, felt that despite the HBC's official position, the settlement was a hindrance to profits and a constant nuisance to the men running the business.
Because the company did not want to pay soldiers to enforce its rule, it shared political power in the settlement with the leaders of the various communities and had to be careful not to offend the majority of settlers. Many Métis argued that, as natives of the land, they could trade with whomever they pleased and did not have to accept the HBC monopoly. The HBC brought in British troops temporarily to intimidate its opponents, but had to give up any claim to a monopoly when the troops returned to England without resolving the matter. By 1850, the company accepted that it could not form an effective government, nor could it maintain a monopoly in the area. However, since the company was still expected to pay the costs of governing the settlement, it began to look for a new political system for Rupert's Land.