Camping and accommodations
An overnight stay alongside Parks Canada's historic canals is a unique way to experience life on the locks while creating warm memories with your friends and family. Choose from historic homes, scenic campsites and our unique oTENTik or Ôasis accommodations at various points along the Ontario and Quebec waterways. Easily accessed by land or water, these affordable overnight options allow you to plan the perfect trip for yourself or with a group.
Phone number:
1-877-RESERVE

Tent camping at lockstations
Only available in Ontario
First-come first-served camping is only permitted at lockstations on the Rideau Canal and Trent-Severn Waterway.
Camping alongside the historic canals is a great way to extend your visit and immerse yourself in the daily activities at the lock. Wake up to the sounds of nature, cast a fishing line at first light, and wave to the passing boaters. Lockstation campsites also make a great place to start or finish a paddling trip. Most campsites can not be reserved in advance. Permits are issued to visitors by the lockmaster on duty on a first-come first-served basis. Visit the Trent-Severn Waterway and Rideau Canal websites below for information on how to secure a site.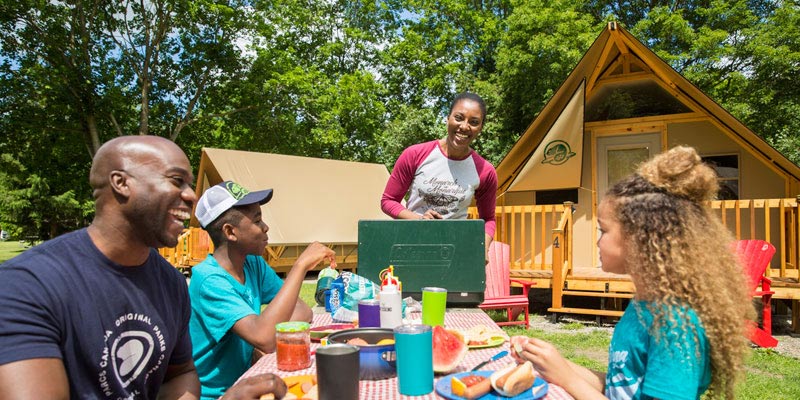 oTENTik
Available in Ontario and Quebec
A cross between a rustic cabin and a big tent, the oTENTik is an authentic overnight experience like no other. Take your camping trip to the next level with a warm shelter and a ready-made campsite next to the water. Big enough for a family and a perfect place for paddlers, the oTENTik makes for memorable campouts during any summer adventure.
Ôasis
Only available in Ontario on the Trent-Severn Waterway
Let your imaginations soar during your stay in one of these treetop hideaways, each one claiming its own gorgeous campsite tucked into an enchanting pocket of treeline along the Trent-Severn Waterway. All sites are close to paddle docks and come with access to washrooms and on-site food storage bins. Also at your campsite you'll find a fire pit and chairs, plus a bbq just waiting to be fired up!

Historic accommodations
Only available in Ontario on the Rideau Canal
Live like a lockmaster inside one of the beautifully restored historic homes along the Rideau Canal National Historic Site. Parks Canada has preserved much of the original 19th century construction in these heritage accommodations and have updated the interiors with modern amenities, spacious common areas, and comfortable beds. These short-term vacation rentals are suitable for families and small groups, and easily accessed by land and water. Book a stay in one of these special accommodations and claim your place in history.
Historic accommodations on the Rideau Canal National Historic Site