The best hiking in the Canadian Prairies
Whether it's a trek along rolling hills to the top of the prairies, an expedition to the tundra along the Hudson Bay, or a walk in the heart of the badlands it's time to head out hiking in Saskatchewan and Manitoba!
Saskatchewan
Grasslands National Park
Length: 4.1km
Time: 1.5 hours
Level of difficulty: Difficult
Challenge yourself to a steep climb up to one of the highest points in Grasslands National Park. Your efforts will be rewarded with sprawling views of the park's rugged and wild prairie landscape from the top; a sight well-worth the trip! Hike this loop at dawn or dusk to see the sun rise or set over the stunning West Block and feel the wind in your hair as you admire what was widely considered the last frontier of the prairie west.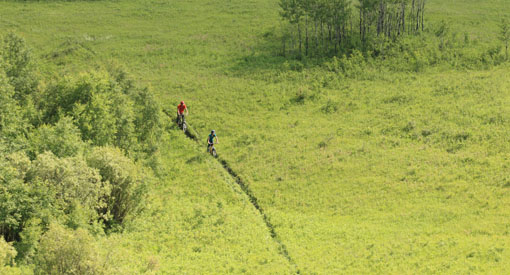 Prince Albert National Park
Length: 3km
Time: 2 hours
Level of difficulty: Easy. Some steep sections.
Wander through a lush landscape that brings you into a fairytale-like atmosphere. The trail takes you along a beautiful peninsula that provides plenty of shoreline views of Waskesiu Lake. Take a break on a secluded beach where you can search for the purple sand, a result of the past glacial activity in the area.
Batoche National Historic Site
Length: 800m
Time: 15 minutes
Level of difficulty: Easy
Take a step back in time and journey along the remains of the red river cart trail that was once the main trading route between Fort Garry and Fort Edmonton. The trail straddles the East Village of Batoche on its journey towards the old ferry crossing of the South Saskatchewan River – a fantastic place for a picnic or to launch your canoe or kayak adventure. Canoe/kayak rentals available.
---
Manitoba
Riding Mountain National Park
Length: 5km (one-way)
Time: 1 hour
Level of difficulty: Easy
Hike or bike your way along the shores of Clear Lake, Riding Mountain's biggest and most popular lake. Find a set of red chairs with an amazing view of the water, and find hidden beaches along the way. In the winter, grab your skis or snowshoes and get a whole new view of a frozen Clear Lake.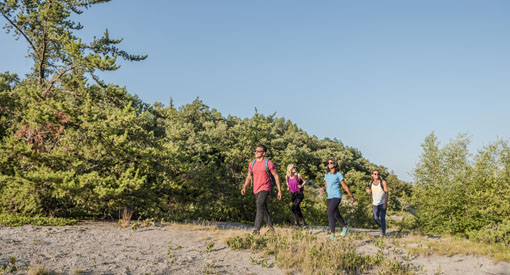 Riding Mountain National Park
Length: 6.4km (one-way)
Time: 2 hours
Level of difficulty: Difficult
Are you ready for something that has been thousands of year in the making? Hike through the boreal forest, climb along the rocky Manitoba Escarpment, then relax at the end with your feet in a creek. Bring a friend and leave a 2nd car at the end, or double your work out by hiking back on this one way trail.