Camp stoves and fuel
Stoves and the various fuels needed to run them can sometimes be intimidating to new campers. There are so many different choices! Always make sure you know what kind of fuel your stove needs and bring extra. Store fuel well away from a campfire.
Two-burner stove
Two-burner stoves are very convenient for families and groups. They are easy to use and people like the fact they can cook more than one thing at the same time.
Single-burner stove
Single-burner stoves are much lighter and more compact than their two-burner counterparts. They are extremely easy to pack and are a great option for solo or backcountry campers.
Fuel
When choosing a stove, be sure to select one that burns a fuel source you are comfortable using. Each type of fuel has advantages and disadvantages. Find out more by talking with friends and family who camp, or outdoor store staff.
BBQs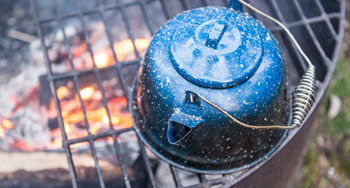 Some campgrounds have charcoal barbecue pits – just bring your own briquettes and starter. You can also bring your own portable BBQ to use at your site.
Campfires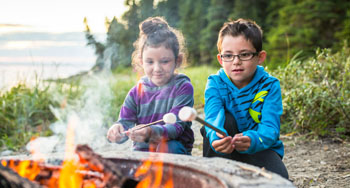 Gathering around the campfire with a cup of hot chocolate is the perfect end of a busy camping day. Many campsites in national parks have fire pits just for this purpose. Some are equipped with a cooking grill, though keep your fires small and under control. Always check park rules regarding campfires before you leave home.
---
Staff tips
Cook in areas out of the wind or use a windscreen for your stove. Cooking in the wind consumes much more fuel! Try out your camp stove in your backyard at home and cook a meal outside before you set off on your camping adventure.

The glowing coals of a campfire are much hotter and burn more evenly than the flames. To control how hot your cooking pan or pot is, move it closer or further away from the coals.