Fishing
Ivvavik National Park
Fishing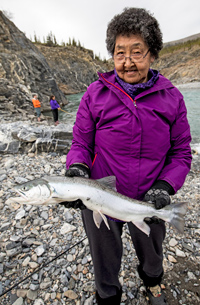 The rivers and creeks of Ivvavik National Park can offer incredible fishing experiences for both fly and cast-rod anglers. The main sport fish species in the park are Dolly Varden char and Arctic grayling.
Fishing Permits
If you plan on fishing in Ivvavik National Park you must possess a valid National Park Fishing Permit. Yukon Fishing Licenses are not valid in Ivvavik National Park.
Annual and daily National Park Fishing Permits are available from the Parks Canada Inuvik office. The annual fishing permit is valid for one year.
Anyone under the age of 16 may fish in national parks without a permit if accompanied by a permit holder 16 years of age or older. However, their catch is then included within the permit holder's daily limit. They may also purchase their own permit and be entitled to the full catch limit.
Fishing Regulations
Pursuant to subsection 35 (1) of the National Parks Fishing Regulations, fishing in Ivvavik National Park is restricted. For the most up to date fishing restrictions in the park click here.
Daily catch and possession limit is one Dolly Varden char, with a maximum of 3 fish in total (Dolly Varden char, grayling and/or non-game fish species).
For more information about fishing regulations in Ivvavik National Park, click here.