Parks Canada Shops
Forillon National Park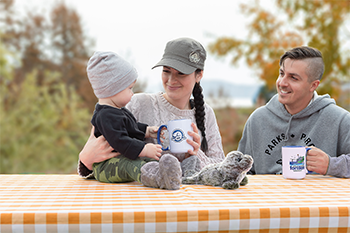 If you need to replace a cap teased away by the wind, treat yourself to something to keep your shoulders warm on a cool evening, or bring home a souvenir from land's end for grandma, look no farther than the Parks Canada shops.
Visitor Information and Discovery centre (North area)
Penouille Visitor Centre
Recreation Centre (South area)
Please note that our three boutiques will be offering several utility products to accommodate campers, such as propane tanks, matches and other amenities.
Do you want to keep a souvenir of Forillon while tantalizing your taste buds? We have the solution, and it's called l'Éveil de Forillon. Our tasty local coffee produced by Le Café des Artistes will be exclusively on sale in our three boutiques :
Visitor Information and Discovery Centre and Penouille Visitor Centre as of June 16, 2023;
Recreation Centre as of June 23, 2023.
Looking for Parks Canada official merchandise during the off season? Check out our online store for a great selection of apparel, headwear and gear.
Every purchase of Parks Canada official merchandise supports Canada's historic sites, marine conservation areas and national parks.