Our beaches
Forillon National Park
Forillon National Park has several beaches that will enchant visitors! Whether you are seeking tranquillity, observing wildlife, plant life and landscapes, or even playing in the sand and engaging in various activities, having fun is no problem on our beautiful beaches. However, please note that none of these beaches are monitored, and caution must be exercised, especially with regard to boating safety. Enjoy your visit!
Penouille
Penouille Beach is without a doubt one of the most beautiful sandy beaches in Quebec. Also, since it is located in Gaspé Bay, the water is warm enough for swimming.
Cap Aventure - Recreational equipment rental and guided activities
Watch the sun set over this amazing sandy place while on a guided stand-up paddle board trip. Recreational equipment rental available on site.
Stand-up paddle board (SUP)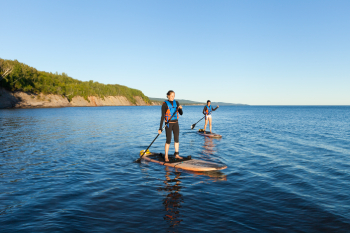 If you're looking to discover new sensations and work on your balance, stand-up paddle boarding is the right activity for you. SUP provides a unique perspective, with your feet flat on the water and your eyes on the horizon.
Pedal boating and recreational kayaking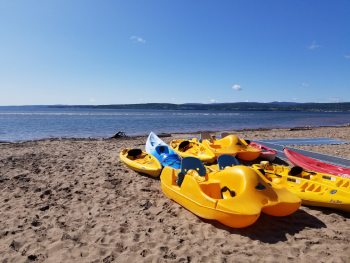 Those looking for a more relaxing experience may opt for a pedal boat excursion. This highly-stable, fun form of boating is suitable for everyone in the family. For an easy family excursion near the beach, a "sit on top" recreational kayak could be the right watercraft for you. As they are highly-stable, these open kayaks are suitable for beginners.
Quadricycle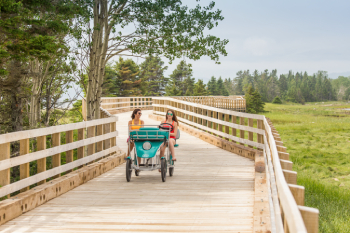 The designated means of transportation for anyone looking to spend some quality time with family or friends. The excursion consists of a round-trip cycle to the tip of the peninsula.
Biking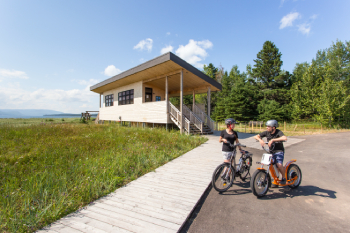 Bike to the tip of the Penouille peninsula with your family to admire the view of Gaspé Bay.
Cap Aventure - Recreational equipment rental and guided activity
Date:
June 17 to September 10, 2023
418-892-5056
ou
1-877-792-5055
capaventure@telus.net
www.capaventureforillon.net
Facebook
Petit Café de la Traverse
For a walk in the forest, hours at the beach or to eat on site, enjoy the Petit Café de la Traverse's homemade products that showcase the Gaspé region: sandwiches, pastries, specialty coffees and ice cream products.
Date:
June 23 to September 10, 2023
10:00 a.m. to 3:30 p.m.
418-360-0490
cafetraverse@gmail.com
Facebook (Only in French)
Cap-des-Rosiers
The Cap des Rosiers cobble beach offers a stunning view of the St. Lawrence, the Cap des Rosiers lighthouse and the cliffs of Cap Bon Ami.
A beautiful boardwalk built in 2018 is nearby and leads to the Irish Memorial, erected in memory of the shipwrecked passengers of Ireland's Carricks ship, which ran aground at Cap des Rosiers in 1847.
Cap-Bon-Ami
Cap Bon Ami is a must for Forillon visitors. You can take in a picturesque landscape from its cobble beach. Birding enthusiasts will also be delighted by the presence of the various marine birds that live in or visit Forillon.
Petit-Gaspé
The Petit-Gaspé cobble beach is located in the southern sector of Forillon National Park and offers a view of Gaspé Bay. It is the perfect place for a picnic after climbing Mont Saint Alban.