Recreation Centre, pool and wading pool
Forillon National Park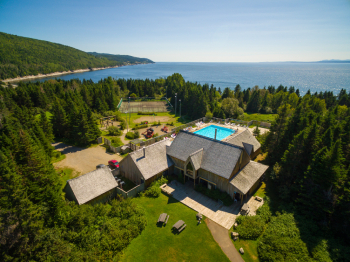 The Recreation Centre is located in the South Area.
Services offered at the Recreation Centre:
Free Wi-Fi
Laundry facilities 24 h self-service
Tennis court
Swimming at the pool - heated pool and wading pool
Vacationing families may enjoy swimming in the heated outdoor pool or paddling around the wading pool. Both pools are supervised by lifeguards during opening hours.
Dates of operation
Date: June 29 to September 4, 2023
10 a.m. to 4:30 p.m.
Fees*
*the price of the swimming pool is in addition to the entrance fees
Les Délices de Forillon
Come and discover the wonderful culinary world of the Marché des Saveurs Gaspésiennes. This restaurant offers you products from near and far: cheeses and cold cuts, pastries and much more.
Date: June 29 to July 24, 2023
10 a.m. to 5:00 p.m.
Date: July 25 to August 12, 2023
From Tuesday to Saturday
10:30 a.m. to 6:00 p.m.
From Sunday to Monday
10:30 a.m. to 5 p.m.
Date: August 13 to September 3, 2023
10:30 a.m. to 5 p.m.
Playground equipement for childen