Protecting reptiles and amphibians
Georgian Bay Islands National Park
33 species of reptiles and amphibians have been found in Georgian Bay Islands National Park, which is the most in any national park in Canada. This includes species at risk such as the Eastern Massasauga Rattlesnake (threatened), Five-Lined Skink (endangered) and Map Turtle (species of special concern). Beausoleil Island, the main island of the park, has been recognized as an Important Amphibian and Reptile Area (IMPARA) by the Canadian Herpetological Society (CHS).
We are working to improve the conservation status of many turtles and snakes through active protection and restoration efforts.
Protection and recovery actions take a multi-species approach, with efforts focused on the Eastern Hog-nosed snake (special concern), Northern Map turtle (special concern), Snapping turtle (special concern), Blanding's turtle (threatened), Eastern Massasaga Rattlesnake (threatened), and Eastern Foxsnake (endangered) within the park.
Park staff work to educate visitors and the general public through educational programing, both within and outside the park. These programs cover the many species of herptiles (reptiles and amphibians) living in the park, the threats they face, and how to protect them.
Reaching beyond the park boundary
Parks Canada is looking beyond park boundaries to address the largest threat to herptile populations: roads.
Although Georgian Bay Islands National Park is an island-based park without the presence of cars, local herptile populations may be at additional risk from road mortality due to increased road traffic leading to the park. Recognizing this, park staff are working to understand and reduce road mortalities in the area.
Park staff are coordinating efforts with local partners to evaluate road mortality in the area. Monitoring and recording information from Honey Harbour road and South Bay road mortalities will allow "hotspots" of crossing activity to be identified and help create safer crossings in the future.
On the Road Again
Across Ontario, many reptiles and amphibians are facing population declines due to the dramatically altered and fragmented landscapes. Parks Canada has implemented conservation initiatives across the province, with three national parks working closely together to address up to twenty recovery actions in Multi Species Action Plans for ten herptile species at risk impacted by roads. These parks are Georgian Bay Islands National Park, Bruce Peninsula National Park and Thousand Islands National Park.
Staff place a nesting box on a recently laid map turtle nest.
Conservation efforts include:
Eco-passage installation (working with local municipal governments, Ontario provincial ministries)
Habitat protection (nest protector programs within parks, and with volunteers and local landowners)
Habitat restoration (rehabilitating park spaces, creating artificial nesting mounds and monitoring sites)
Turtle nest incubation and hatchling release (completed with partners, visitor release events)
Large-scale public engagement initiatives (citizen science/volunteer programs, virtual outreach)
Partnership development and engagement to assist in conservation outside national park boundaries
These planned actions will contribute to the recovery of species at risk by reducing mortality, improving habitat connectivity, increasing population recruitment, and fostering public awareness and appreciation of herptiles and the threats they face.
As Parks Canada moves forward, protocols, best management practices and lessons learned will be shared across the province with other sites, parks and partners to help the recovery and protection of herptiles.
Anishinaabe Knowledge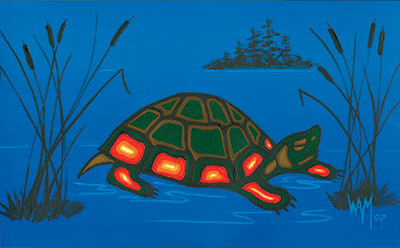 The turtle is a culturally important species to Indigenous people. In Anishinaabe teachings, the turtle teaches us stability and dependability and how we can implement this into our everyday life. Turtles remind us of our relationship with mother earth because in the Anishinaabe people's creation story, the turtle offered her back to become the land of Turtle Island (North America). The turtle is also a clan and represented in the 7 grandfather teachings adding to the turtle's significance to Anishinaabe people.
The 7 grandfather teachings are used as guiding principles to use in our everyday life. These teachings are love, respect, courage/bravery, honesty, wisdom, humility and truth. The turtle represents the teaching of truth.