Things to do
Bruce Peninsula National Park
See how different Bruce Peninsula National Park is in winter.
Warning
Hiking during the winter can be hazardous, please review our winter safety page before heading out.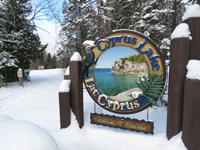 Strap on some cross country skis or lace up some snowshoes for a memorable winter experience. Cross country skiing is permitted on all park trails, but be aware the trails are not groomed and you will be sharing the space with other park users.
Snowshoes are another great way to experience the park in winter. Stay on the marked trails and be extremely cautious near cliff edges and shorelines.
Some parts of the park become inaccessible after the first snow fall. Emmett Lake Road and Crane Lake Road are not plowed, so do not expect to drive into these areas.
Bring all your own equipment, there is no place in the park or the surrounding community to rent equipment during winter.
---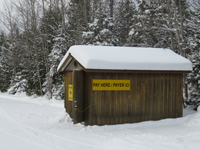 The Grotto and Indian Head Cove
To experience the Georgian Bay shoreline in winter, turn off Highway 6 at Cyprus Lake Road. Proceed to Cyprus Lake Office (5km) and register at the kiosk. Maps and payment instructions are located in the kiosk.
Trails are not maintained.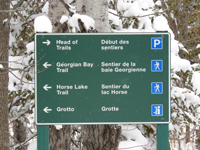 Follow the Cyprus Lake Trail and Georgian Bay Trail to get to and from the Grotto in the winter. Crossing Cyprus Lake can be hazardous because of ice conditions. The park does not monitor ice thickness.
Thin ice is a potential on any water body and users should exercise extreme caution. The Georgian Bay shoreline can be very icy and dangerous.
Stay away from the water's edge.
If you are not familiar with the trails, please download and print this map to bring with you. Copies may not be available at the park.
---
Burnt Point Loop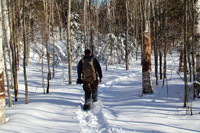 The hike to Burnt Point starts at the Visitor Centre in Tobermory.
The Burnt Point Loop Trail starts at the base of the viewing tower to the east of the Visitor Centre.
Trails are not maintained.
If you are not familiar with the trails, please download and print this map to bring with you. Copies are not available at the park after you arrive.
---

Snowmobiles
Snowmobiles are only allowed on official Ontario Federation of Snowmobile Club trails. See their website for details.