New First Nation building will house Nahanni National Park Reserve's offices
Nahanni National Park Reserve
On September 18, 2019, the Liidlii Kue First Nation hosted a ground-breaking event for its new office complex in Fort Simpson, Northwest Territories. Fort Simpson's traditional name is Liidlii Kue, "the place where rivers come together." The community is located in the Dehcho Region of the Northwest Territories, and is home to the administrative offices of Nahanni National Park Reserve.
The event was led by Liidlii Kue Chief Gerald Antoine and opened with a traditional Dene prayer and drum song, followed by a feeding-of-the-fire ceremony, an ancient Dene tradition appropriate for celebrating the new office complex. Key partners in the project were invited to make presentations following the ceremony. Jonathan Tsetso, Superintendent for Nahanni National Park Reserve, and Alex Lothian, Asset Manager for the Southwest Northwest Territories Field Unit, spoke on behalf of Parks Canada. A formal sod turning followed the presentations, and the event concluded with a community feast and drum dance.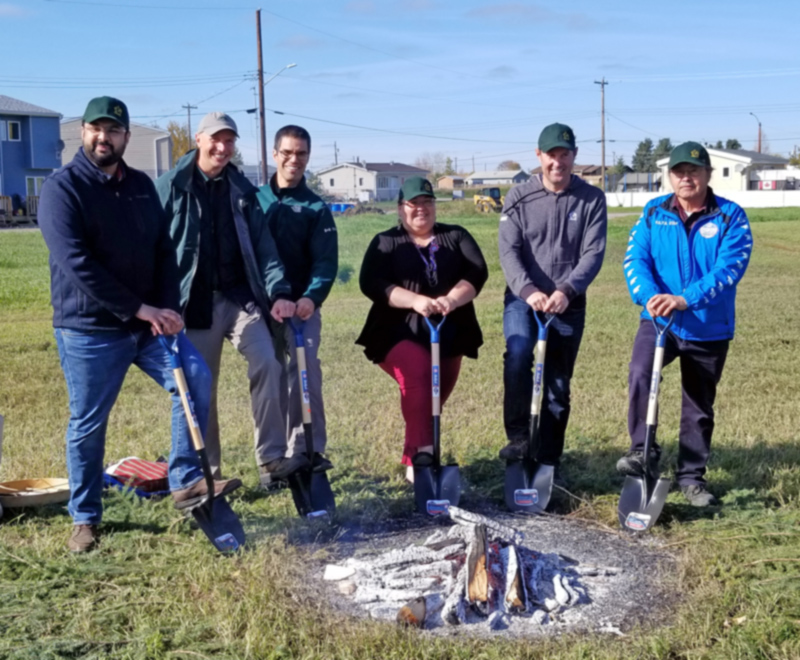 Liidlii Kue First Nation Builds Internal Capacity
Left to right: Adeel Moghal, Business Development Canada (BDC); Alex Lothian, Parks Canada; Jonathan Tsetso, Parks Canada; Misty Ireland, Dehcho Investment Management Board; Dean Hudson, Vice President Arctic Canada Construction Ltd.; Gerald Antoine, Chief, Liidlii Kue First Nation.
Valued at $10 million, the new office complex contains 26,000 square feet of office and meeting space and is scheduled to be completed by 2021. The building will house three key tenants, including the administration offices for the municipality of Fort Simpson, the Liidlii Kue First Nation (LKFN) government and Nahanni National Park Reserve. Parks Canada committed to an upfront prepayment of $2.9 million for a 25-year occupancy period followed by three five-year options for renewal. Parks Canada's prepayment assists the Liidlii Kue First Nation in building its internal capacity and contributes to its working capital. The LKFN also benefits from cost-sharing of ongoing operations and maintenance of the building.
Parks Canada views this project as reconciliation in action. "For too many years we were not included; things went ahead without us," Chief Antoine said at the event "This has to change. We must be included and we must all move forward together to make things better for our children and our community. That is what we had in mind for this project and we succeeded".
Jonathan Tsetso echoed that sentiment in his remarks. "Today marks a special occasion where Parks Canada will be a long-term tenant in Liidlii Kue First Nations' new facility, and we are proud to make our new home alongside them. This new facility will serve to strengthen the relationship between Parks Canada, our Indigenous partners and community organizations."
Located in the heart of Fort Simpson, the Liidlii Kue office complex will be the largest building in the community. During the summer months, Fort Simpson is a tourism hub and the gateway to Nahanni National Park Reserve. The new facility will be an important asset to the community, enhancing regional ecotourism opportunities and supporting local economic development.




Image courtesy of David Wong Architect Ltd., Edmonton Alberta