Brochures and publications
Sable Island National Park Reserve
Maps
Main Station, Bald Dune, West Tip, East Tip, North Beach, South Beach, paths or crossings, select shipwrecks.
Use the Avenza Maps app to open the geoPDF and navigate your way around Sable Island.
Check out Sable Island using Google Street View!
Publications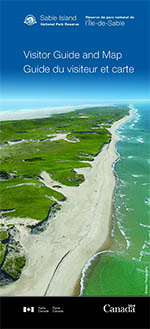 Sable Island Visitor Guide and Map
Plan your trip to Sable Island National Park Reserve with the Visitor Guide and Map.
Download (PDF, 14 MB) | More information (HTML)