Infrastructure program
Cape Breton Highlands National Park
For a list of infrastructure projects that may affect visitors, see below.
Timeframes are subject to change.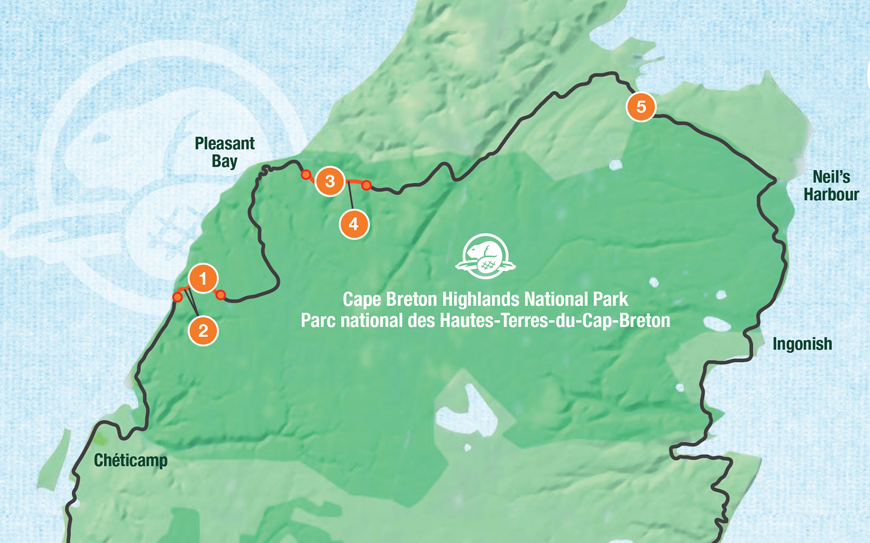 French Mountain Rehabilitation
May - September 2019
Ongoing use of traffic control persons and pilot vehicles
Rock stabilization (French Mountain)
May - June 2019
One lane with traffic lights
Pleasant Bay to Lone Shieling Road Rehabilitation
May - September 2019
Ongoing use of traffic control persons and pilot vehicles
Grand Anse Bridge Rehabilitation
May - July 2019
One lane with traffic lights
Effies Brook Bridge Replacement
May - July 2019
Ongoing use of existing bridge during construction of new bridge
Please note: Road construction occurring between Smokey Mountain and Cape Smokey Provincial Park, as well as between Ingonish Beach and Ingonish, are on a provincial section of the Cabot Trail and are managed by Nova Scotia Department of Transportation and Infrastructure Renewal. For up-to-date information on these projects, please visit 511.gov.ns.ca.
Travellers can expect occasional traffic slowdowns and wait times may vary. To minimize delays and safety risks, please obey:
Traffic lights

Traffic control personnel

Speed restrictions

Two-lane detours
As required, between 10 p.m. and 6 a.m., a two-lane closure up to a period of no longer than 20 minutes may be necessary for certain projects.
Please remember to share the road with cyclists.
---
What to know before you visit
Parks Canada is investing an unprecedented $3 billion over five years to support infrastructure work to heritage, tourism, waterway, and highway assets located within national historic sites, national parks, and national marine conservation areas across Canada. This investment supports conservation efforts that will ensure these cherished places are protected and secured for the future.
This historic investment supports conservation while promoting visitor experience and making our infrastructure safer and more appealing to visitors.
When visiting or driving through Cape Breton Highlands National Park, you may encounter one or more construction zones or reduced services while we complete this important work. Please plan ahead before you travel to avoid inconvenience.
---
We are building better roads and bridges in Cape Breton Highlands National Park
This work will make travelling in your national park safer and more enjoyable in the future.
We apologize for delays and appreciate your patience as we work to minimize impacts to visitors and businesses.
Where possible, every effort is made to minimize traffic inconveniences during these infrastructure projects.
---
Safety is a top priority and Parks Canada's investments will improve visitor experiences at our national parks and national historic sites on Cape Breton.
How long will I wait in construction?
Wait times may vary at each construction site. To minimize wait times:
Traffic lights and traffic control personnel will be used.
Where possible, two lane detours will be used at bridge work.
There may be periodic two-lane closures for no longer than 20 minutes.
Why is Parks Canada doing this construction during peak tourism season?
The majority of roadwork involves large bridge and highway projects. These types of projects require summer weather to ensure materials can be installed properly. Bridge projects must also be completed when water levels are low to prevent negative impacts to aquatic environment.

How can I get more information on traffic delays?
For up-to-date information on traffic updates you can: