Hidden Gems of the Highlands challenge
Cape Breton Highlands National Park
The Cape Breton Highlands hold a treasure at every step: the grand views; the microscopic wonders; the plethora of stunning natural phenomena, thought provoking rarities and wow moments in between.
Discovering and experiencing some of these gems will give you the opportunity to earn a Cape Breton Highlands National Park Hidden Gems of the Highlands Badge to add to (or start) your collection of Hiker Challenge badges presented by Hike Nova Scotia.
This new program will take you to places beyond those advertised far and wide and offer you a deeper glimpse into the Heart of the Highlands.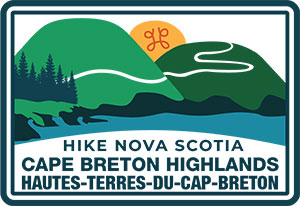 The Mi'kmaq symbol representing the stages of life is nestled in the highlands of Unama'ki at the centre of this badge. Since time immemorial, L'nu have lived on and stewarded these lands, where treasures abound — folded into the mountains; hidden within the rock; dancing in the waters; and unveiled with every changing season. Discover and embrace these treasures in your hearts and minds as you explore Cape Breton Highlands National Park. Earn a Hidden Gems of the Highlands badge by completing any one of four challenges within 365 days.
---
Here's how to earn your badge:
Complete one of the four gemstone challenges from the menu below within 365 days.
Register with Hike Nova Scotia.
Come into one of the park visitor centres (Chéticamp or Ingonish) to collect your badge. Available while supplies last.
Remember to tell us which challenge you completed.
Spread the news and encourage your friends and family to explore the hidden gems of the highlands for themselves!
Keep track of your achievement.
Here are some suggestions how:


take a photo of your destination
log the date and name of the place/facility visited
keep track of your distance travelled along with trail names and dates completed
write a description, journal entry, letter or postcard about the places you discover
contribute to citizen science by sharing your observations with the iNaturalist community
create a piece of art inspired by your experiences


Use your imagination to document and remember this place however you wish!
---
The Menu
Inspiration, Motivation, Reward
---
This challenge guides you to discover the park's wonderful diversity of waters.
Hike five lake or river trails and dip your toes (or fingers…or whole self!) into ten different bodies of water in the park. Choose from the list of saltwater beaches, freshwater lakes, brackish estuaries, rivers, waterfalls and brooks. An additional option is to go for a hike in the rain! Take note of how the experience is different in the rain — what do you see, hear, smell, taste and feel?
Remember to keep track of your trails and dips!
Trails to choose from

Freshwater Lake
Clyburn Valley
Warren Lake
Jack Pine
Jigging Cove Lake
Aspy
Lone Shieling
MacIntosh Brook
Fishing Cove
Benjie's Lake
Bog
Corney Brook
Salmon Pools
Some suggested bodies of water

Freshwater Lake*
Ingonish Beach*
Clyburn Brook and Estuary
North Bay Beach*
MacDougalls Lake
Broad Cove Beach and Estuary*
Warren Lake and Brook*
Mary Ann Falls
Black Brook and Black Brook Beach*
Neils Harbour Beach*
Paquette Lake
Aspy River
Beulach Ban Falls
Grand Anse River
MacIntosh Brook and Falls
Fishing Cove Beach and River
Corney Brook Beach*
Corney Brook and Falls
Mkwesaqtuk/Cap-Rouge Beach* and Trout Brook
Presqu'île Beach
La Bloc Beach*
Chéticamp River
Petit Étang Beach*

Please note: Not all bodies of water are suitable for swimming. Please refer to the park map or website for recommended swimming beaches (indicated on the list above with an asterisk).
Explore the park's incredible geological history by hiking three geologically significant trails and taking three beach walks/explorations to complete the challenge. Keep a keen eye out for gems embedded in the rock!
Trails to choose from

Acadian
Salmon Pools
Le Buttereau
Le vieux chemin du Cap-Rouge
Lone Shieling
Aspy
Mica Hill
Coastal (south)
Green Cove
Clyburn Valley
Middle Head
Freshwater Lake Look-off
Choose a beach and explore. They'll all unveil incredible geological processes. (Some of our favourites, geologically speaking, are Presqu'île, Neils Harbour, Broad Cove and Ingonish Beach.)
As you travel from place to place, stop at viewpoints on MacKenzie Mountain and Lakies Head (where interpretive exhibits are mounted on a beautiful collection of park rock) and visit the geological exhibits on North Mountain, MacKenzie Mountain and Cap-Rouge. Did you notice the warden station at the park's east entrance? It's also built from a variety of park rock! So is the Lone Shieling (where in the nearby retaining wall you can touch a billion-year-old rock — do you see the white one?).
Here is a chance to go the distance and test your stamina! Explore 15 lesser travelled park trails OR visit 15 accessible offers in the park (viewpoints, interpretive exhibits, beaches, picnic areas, campgrounds, visitor centres, and accessible trails) in the course of a year to earn your badge and thread your string of park pearls.
Suggested trails

Acadian
Salmon Pools
Le chemin du Buttereau
Le vieux chemin du Cap-Rouge
Corney Brook
Benjie's Lake
Fishing Cove
Aspy
Mica Hill
Jack Pine/Coastal
Jigging Cove Lake
Broad Cove Mountain
Warren Lake
Branch Pond Look-off
Clyburn Valley
Trails suitable for all-terrain wheelchair

Available to borrow at visitor centres. Various levels of difficulty. Some rough sections and steep inclines.


Salmon Pools
Le chemin du Buttereau
Le vieux chemin du Cap-Rouge
Skyline
Benjie's Lake
Aspy (first half)
Mica Hill (first half)
Jigging Cove Lake (south side)
Warren Lake (north side)
Branch Pond Look-off (first half)
Clyburn Valley (first half)
Discover the incredible, ever-changing rainbow of colour on Mother Nature's palette with this multifaceted cross-seasonal challenge:
Hike at least one park trail in each season (four or more trails total) — you can snowshoe, ski or sled too!
Take one moonlit hike in the course of the year (you're likely to be wanting more)
Visit each of the park's three forest types (taiga, boreal and Acadian) once every season. This can be done on one trail or by visiting multiple venues. Mica Hill and Branch Pond Look-off each pass through all three forests.
Take note of the colourful changes in foliage, birds, wildflowers and waters. Each season (each day, in fact) reveals a new treasure! Document them in your mind's eye, camera lens, sketchbook, easel or journal.
---
Enjoy the challenge!
Please check with park staff for current closures and conditions.