oTENTik
Kouchibouguac National Park
Experience camping like never before!
We know you love Kouchibouguac, so we're making your next overnight getaway with us even easier. Here is a comfortable and hassle-free way to enjoy the true nature of Kouchibouguac National Park.
The oTENTik is a spacious blend of tent and rustic cabin equipped with beds and furniture on a raised floor. Up to six people can sleep in them.
Kouchibouguac's oTENTik units are located at the South Kouchibouguac Campground.
Special options
The following options are only available in select oTENTiks:
| Feature | oTENTik site number |
| --- | --- |
| Wheelchair accessible | 49 and 71 |
| Pet-friendly | 44, 48, 60, 66, 71, 74, 75, 86, 99 and 104 |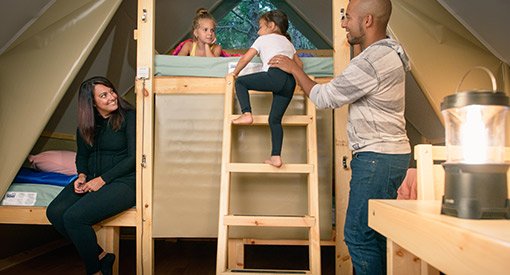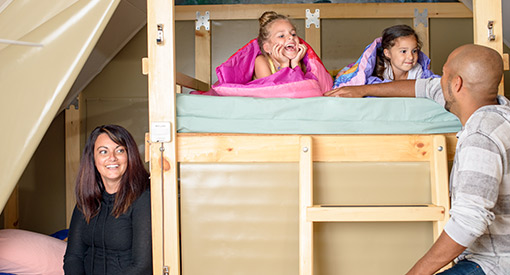 What to Bring
Sleeping bags, blankets and pillows
Food, drinks and a water container (campground water is potable)
Slippers or indoor shoes - the first rule of keeping a clean tent is to remove outdoor footwear
Matches or lighter to start fire in the cook shelter
Dishes for four, cooking and cleaning supplies
What We Offer
Inside the oTENTik

1 table
4 chairs
1 bench
1 sleeping area that accommodate up to six person
1 broom and 1 dustpan
1 battery-powered light
1 propane heating stove
1 carbon monoxide/smoke detector
Outside the oTENTik

A parking space for 1 vehicle
A picnic table
Two deck chairs
A fire pit

Nearby

A common service building (showers, toilets, and laundry)
A common kitchen shelter
A public telephone (at the entrance kiosk)
Notice
Smoking or vaping is NOT permitted in oTENTik units.
Pets are only allowed in pet-friendly units (44, 48, 60, 66, 71, 74, 75, 86, 99 and 104)
For safety reasons, cooking is NOT allowed inside the oTENTik. A nearby kitchen shelter is available for that purpose.
The oTENTik must be cleaned prior to departure
Rules that apply to the other campground sites also apply to clients of the oTENTiks
Coolers must be stored inside vehicles in order to avoid any conflicts with wildlife