When the nose, knows. The dog squad sniffing out invasive species. Part 2
Riding Mountain National Park
On a rainy day at the end of September 2019, Hilo returned to Riding Mountain National Park with his co-barker Diesel. This Conservation K-9 Unit from Alberta can sniff out anything imaginable but they are specifically trained to find invasive species, including zebra mussels.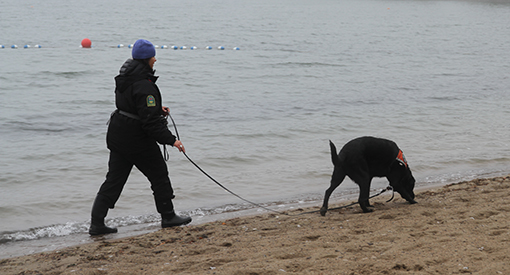 Two years ago, in December of 2017, Parks Canada had to close Whirlpool Lake due to the potential presence of zebra mussels. Luckily, after a consecutive year of negative test results, the lake and campground were re-opened in the summer of 2019 for visitors to enjoy once again.
Aquatic invasive species (AIS), like zebra mussels, can destroy ecosystems and hitchhike from lake to lake on boats, inflatables, and beach toys. Mandatory watercraft inspections have been in effect in the park for several years and although there has been more awareness in the past couple of years, with fewer violations, there's always a risk. It only takes one contaminated boat to introduce AIS into park waters.
The closure of Whirlpool Lake was a wake-up call for how Riding Mountain National Park manages the AIS Prevention Program and engages with visitors about keeping AIS out of park waters. Christian Tremblay, AIS Project Coordinator for Riding Mountain National Park, has been working tirelessly for the last several years monitoring and testing park waters for AIS. He and his team conduct hundreds of tests every year for zebra mussel eDNA, veligers (larvae), and adult zebra mussels in all the lakes in Riding Mountain National Park.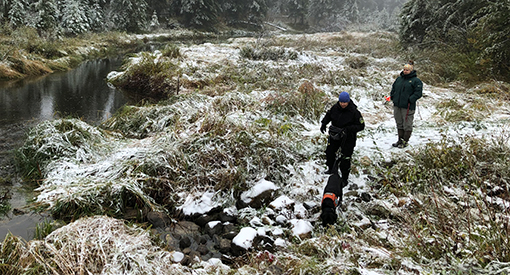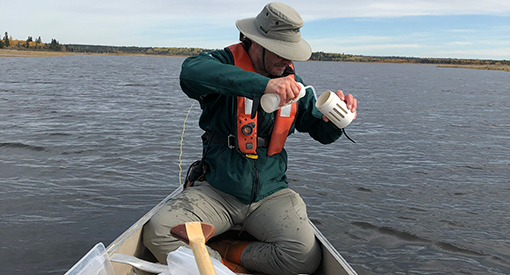 This fall, Tremblay invited the Conservation K-9 Unit from Alberta to come back to the park and have a sniff around Clear Lake and Whirlpool Lake. They are a team of dogs and handlers trained to detect aquatic invasive species. Cindy Sawchuk is the AIS Operations Lead for the province of Alberta. The dogs, Hilo and Diesel, come from an organization out of Montana called Working Dogs for Conservation.
One of the methods used to keep the dogs on task involves planting samples containing zebra mussels along the shoreline for the dogs to find. Hilo's handler, Cindy Sawchuk, used this method while Heather McCubbin, Diesel's handler, did not. Either way, both dogs were hyper focused on the task at hand, sniffing out invasive species.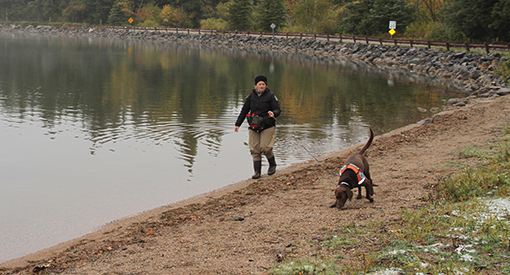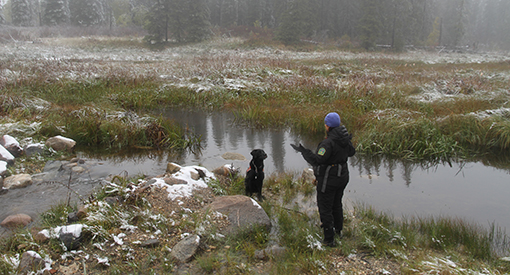 The weather didn't cooperate but the dogs were oblivious to the driving rain and wind. Their first passive response to discovering a zebra mussel is to sit. Once their handler confirms that they have in fact discovered a zebra mussel, they get a verbal reward and playtime with a tug toy. Whenever Hilo found a planted sample he made use of his precious playtime.
In the spring of 2019, the Aquatic Invasive Species Prevention Program in the park introduced Seasonal Permit Orientation Sessions for repeat visitors and locals wanting seasonal permits for their boats. The purpose of these orientation sessions is to provide visitors with more information about AIS and to foster a stronger sense of stewardship for park waters.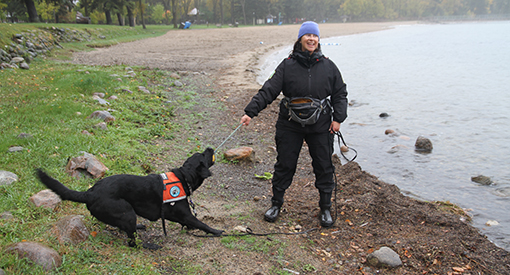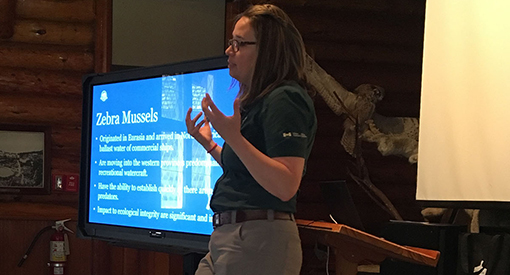 Roberta Tesar, Resource Management Officer for Riding Mountain National Park, developed and co-delivered the orientation sessions. "We developed the program to share knowledge and gain stewards because we can't protect the lakes alone," said Tesar. She wanted to create a program that would effectively engage with park visitors on how best to protect park waters so that everyone can continue to enjoy the lakes in the park. She achieved this by including hands-on learning opportunities, such as designing and building a demonstration boat to highlight all the areas where AIS can hide in watercraft. She also included interactive games throughout the session to keep it engaging, and she was sure to include a lot of questions, providing visitors with the opportunity to discover new information and to debunk popular myths about AIS.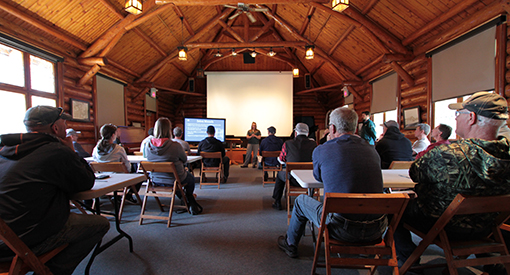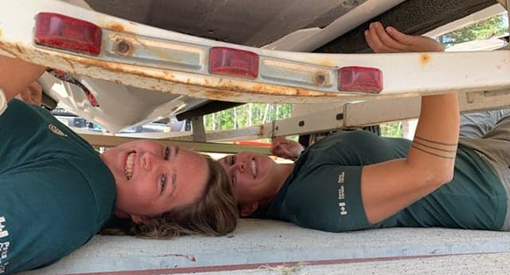 Brandice Hollier, AIS Program Supervisor for Riding Mountain National Park says, "Providing watercraft owners with the tools and knowledge to prevent AIS from spreading into our water bodies was a huge step forward for the program." One of the many benefits of adding the orientation sessions to the AIS Prevention Program is that it created greater awareness and understanding about why the prevention program exists in the first place. "One major difference that we noticed at the AIS inspection station this year was that a lot more visitors understood why we are inspecting all the boats that launch into park waters," said Hollier. The message that we all play a role in keeping AIS out of park waters is catching on.
Much to everyone's relief, neither Hilo nor Diesel sniffed out zebra mussels during their work in the park this fall. Do your part to keep AIS out of park waters. Get your boat inspected before you launch it, talk to your friends and family about what they can do to protect the lakes, and learn more by signing up for a Seasonal Permit Orientation Session next spring. Riding Mountain National Park will be offering orientation sessions again in the spring of 2020, as well as re-certification sessions for visitors that attended the Seasonal Permit Orientation Sessions in 2019.