When the nose, knows. The dog squad sniffing out invasive species. Part 1
Riding Mountain National Park
Hilo is standing on the shores of Whirlpool Lake, Riding Mountain National Park, waiting patiently for instructions. It's Hilo's job to find zebra mussels. During his training, Hilo was able to identify 100% of the watercraft containing aquatic invasive species (AIS), while humans found only 75% - that's because he's a dog.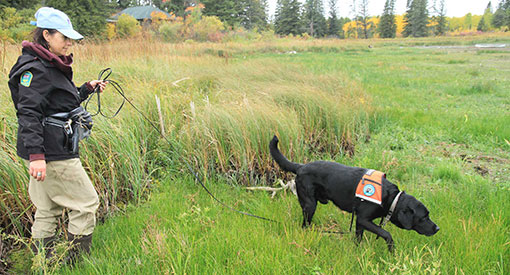 When Parks Canada closed Whirlpool Lake in December of 2017 due to the potential presence of zebra mussels, hearts were heavy. Environmental DNA (eDNA) was found in water samples taken from the lake during regular testing for the AIS monitoring program in the park. As a precautionary measure, to prevent the spread of zebra mussels, the lake was closed.

Christian Tremblay, AIS Project Coordinator for Riding Mountain National Park, has been working tirelessly to monitor and test park waters, including Whirlpool Lake. He also works hard to build relationships with other experts in the field.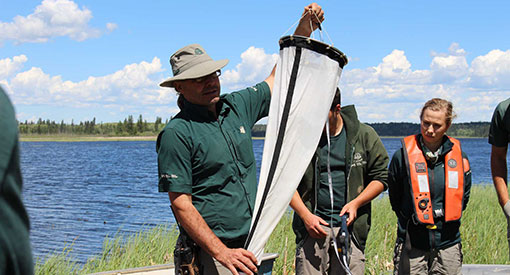 "An important part of my job is building connections, "said Tremblay. "We have great working relationships with Sustainable Development for the province of Manitoba, Fisheries and Oceans Canada, and Environment and Parks for the province of Alberta. We have all done quite a bit of training together, and we work collaboratively in the field."
Tremblay and his team have conducted over 100 tests for zebra mussel eDNA, veligers (larvae), and adult zebra mussels at Whirlpool Lake. So far, none of the results indicate that there are zebra mussels in the lake. "We have been proactive in managing the lake and haven't had any positive results for eDNA since last winter, so we can only speculate as to why we had those positive results last year," said Tremblay.
A big part of the challenge in keeping AIS out of park waters is communicating this with park visitors. AIS, like zebra mussels can destroy ecosystems, and hitchhike from lake to lake on boats, inflatables, and beach toys.
"Our AIS Prevention Program is the front line to block AIS from entering park waters. It's the only way to ensure that people will continue to be able to enjoy our lakes. If we find zebra mussels in other lakes, we will have to close them too," Tremblay said.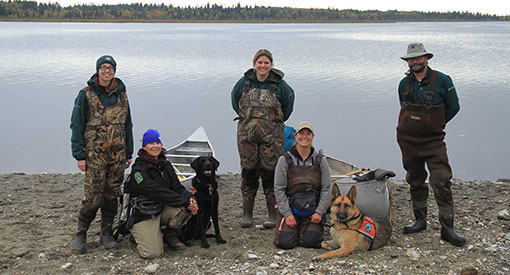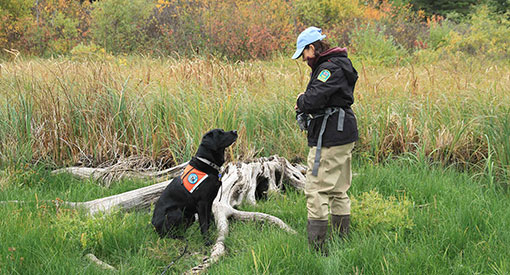 This fall Tremblay invited the Conservation K-9 Unit from Alberta to Whirlpool Lake to have a sniff. They are a team of dogs and handlers trained to detect aquatic invasive species. Cindy Sawchuk is the AIS Operations Lead for the province of Alberta. The dogs, Hilo and Seuss, come from an organization out of Montana called Working Dogs for Conservation.
In order to get the dogs on task, their handlers, Cindy Sawchuk and Hannah McKenzie, planted vials containing zebra mussel samples along the shoreline for the dogs to find.
Their first passive response to discovering a zebra mussel is to sit. Once their handler confirms that they have in fact discovered a zebra mussel, they get a verbal reward and playtime with a tug toy.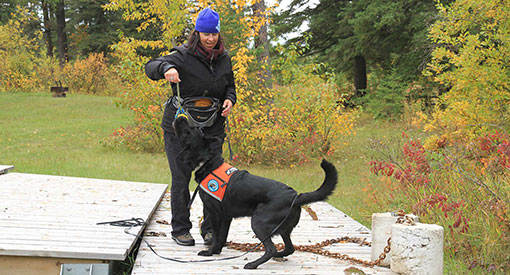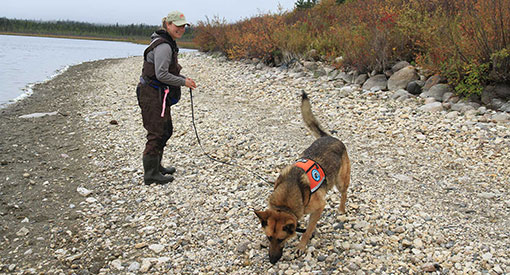 "This is the only time during their work that they get to play. Then it's back to work, but Hilo would work all day if I let him," said Sawchuk.
The team inspected the shoreline along the campground and day use area, the dam and fish ladder, and then everyone paddled to the other side of the lake for inspection of the north shore.
"They can differentiate between an invasive mussel and all of these native mussels. They are completely focused on picking up the right scent," said Cindy standing on the shore, where she counted several different kinds of mussel shells.
Much to everyone's relief, the dogs came up short on their hunt for zebra mussels at Whirlpool Lake.
"So for now we can say that we haven't found any evidence of zebra mussels at Whirlpool Lake, but we're not out the woods quite yet," said Tremblay.
The good news is that Whirlpool Lake is open for winter use. As spring approaches, Parks Canada will reassess whether or not the lake will remain open for spring and summer of 2019.
We all play a part in keeping AIS out of park waters. Be sure to have your boats inspected before you head out onto the water in the park.