Stanley Glacier: Kootenay fossils revealed (Kootenay National Park)
Yoho National Park
Hold a 500 million year old fossil in your hand!
This family-oriented hike provides an excellent introduction to the Burgess Shale on a relatively easy trail. Beginning in a fire-swept forest with wildflowers and lodgepole pine, this hike crosses a turquoise river, passes by waterfalls and offers views of the Stanley Glacier.
Hidden in the Stanley Glacier basin are trilobites, hyolithids, brachiopods, and sponges from the Eldon formation. Many new species that have never been seen are being uncovered in quarries not far from the Stanley Glacier site. These species include Cambroraster, an ancient arthropod with a shell shaped like the Millennium Falcon spaceship.
Note: This hike does not go to the recently excavated Marble Canyon quarry site in Kootenay National Park. The Stanley Glacier trail is not restricted and is open to all visitors to Kootenay National Park. Participation on guided hikes must be reserved in advance.
Is this hike right for you? | Schedule | Cost | Reservations | Hike logistics
---
Stanley Glacier hike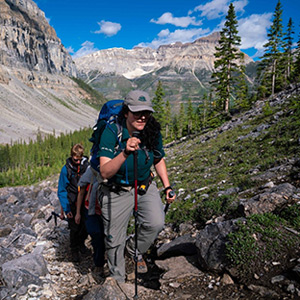 Difficulty: Moderate
Return Distance: 10 km
Elevation Gain: 365 m
Duration: 7.5 hours, 8 am to 3:30 pm
Is this hike right for you?
The Stanley Glacier hike is rated moderate in difficulty. From the Stanley Glacier parking, the first 4 km of the trail are gently graded on well maintained, packed dirt trails. The final section of the trail includes 800 m of rough trail and 200 m of walking on rough and loose rocks. This hike is not advised for people with recurring knee, back or ankle injuries.
Please see our day hikes page for details on hike ratings and to compare other hikes in Kootenay National Park with similar difficulty.
Note:
Children 5 and under are not allowed on the Stanley Glacier hike
Children under 8 are not recommended but may attend at parent's discretion.
The hike is not suitable for strollers or child carrying-backpacks.
Children and youth up to 16 years of age must be accompanied by an adult
Parent or guardian of participants 17 to 9 years of age must sign a waiver at the trailhead
No pets
No exceptions
We want you to enjoy your day! If you are unsure if this hike is right for you, please call us to discuss at 1-250-343-6783 or email us at pc.yohoinfo-infoyoho.pc@canada.ca.
Schedule - 2023 Stanley Glacier Hikes
Stanley Glacier guided hikes run every Friday, Saturday and Sunday in June, every Friday, Saturday, Sunday and every other Monday in July and August, and the first Friday, Saturday and Sunday in September.
When travelling east from Vancouver, the time changes from the Pacific Time Zone to the Mountain Time Zone at Glacier National Park's eastern boundary. All hike times are in Mountain Daylight Time, the same time zone as Calgary, Alberta and Golden, British Columbia.
Cost
Visit our fees page for pricing.
All participants on the Burgess Shale Guided Hikes require a valid national park pass. Purchase your pass the day before your guided hike; the park gates and visitor centres are not open in the early morning, and our guides do not sell park passes.
Reservations are required and available starting March 29, 2023. To make a reservation you will require the following information:
Dates and hike requested
Names and ages of participants
Emergency contact and medical info
MasterCard, Visa or AmEx number
Call 1-877-RESERVE (1-877-737-3783), or reserve online:
Reserve now!
Hike logistics
Meeting point

Meet at the Stanley Glacier trailhead, Kootenay National Park at 8 am MDT.

The Stanley Glacier parking lot is 15 km south of Castle Junction on Highway 93 South in Kootenay National Park.

Note: Construction in the Kicking Horse Canyon, 10 km east of Golden, means periodic overnight closures of the Trans Canada Highway between 10 pm and 7 am.

These closures may impact some visitors traveling from Golden, British Columbia into Yoho National Park on the morning of their hike. Check www.drivebc.ca for details and alternate routes.
COVID-19

Your safety and the safety of our staff is our top priority. Parks Canada continues to follow the advice and guidance of public health experts to limit the spread of COVID-19, and reduce the risks to residents, visitors, employees and other users.

Visitors are asked to continue to follow the advice of public health experts on personal hygiene and physical distancing

during the hike program

Physical distance with people outside of your household.
Good hygiene, e.g. sanitize hands before and after eating/drinking, cover coughs and sneezes, avoid touching face.

Come prepared with your own "COVID-kit" including water, snacks, hand sanitizer and toilet paper

You may bring your own masks, if desired.
What to bring

A day of hiking in the Rockies requires preparation. Conditions can change rapidly in the mountains and higher elevations increase your exposure to the sun and stormy weather. To have a safe and fun time outdoors you will need to bring:

Warm layers of clothes (no cotton), rain jacket and rain pants, winter gloves, and a winter toque / hat
Hearty lunch and multiple snacks
Drinking water, at least 2 litres or ½ gallon per person
Sturdy and worn in hiking boots and extra wool socks
Hiking poles (required for the Mount Stephen hike). Note: Your guide may have hiking poles for you to borrow for the day.
Sturdy and supportive backpack with a waist belt
Sunscreen, sunglasses, sun hat, insect repellent
Toilet paper in a plastic bag for disposal, hand sanitizer
Reading glasses, if you wear them
Blister kit and personal medical supplies (just in case)
Sorry, no pets please.
Camera!