Heritage and non-heritage orchards
Gulf Islands National Park Reserve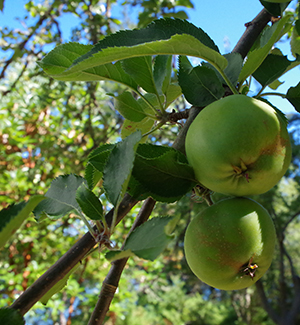 The history of the settlement of the Gulf Islands and the orchards in the park reserve are deeply rooted together.
One of the first things that newcomers did after they cleared the land for settlement was to plant an orchard. Between the 1830s and 1960s, they planted the apple seeds and tiny grafted fruit trees of their favourite varieties which they brought with them to the southern Gulf Islands.
The orchards they planted stand today as jewels that connect us to the unique cultural heritage of the southern Gulf Islands. The hundreds of heritage fruit trees in the park reserve give us a glimpse into the lives of early European settlers to the region, pointing to where they came from and how their farming practices linked into the local economy. The orchards are living examples of horticultural practices from the Victorian era (1837 to 1901) and bring to life the Gulf Islands' rich history as the once top apple-producing region in British Columbia.
Today, there are 17 heritage and non-heritage orchards in Gulf Islands National Park Reserve, spread across eight islands. Apples, pears, cherries, plums, quince, and nuts are most common.
Parks Canada has worked with the BC Fruit Testers Association to identify fruit varieties in several of the orchards. Most of the varieties found in the park reserve come from the eastern United States and Canada, but a few are from Russia and Eastern Europe.
The Red Delicious apple is a classic variety that you find on grocery store shelves today, although it is thought to be of inferior taste and texture compared to the original cultivar. The Red Delicious, developed by a farmer in Iowa, first appeared as the winner of an apple contest in 1880. In 1908, Robert and Margaret Roe traveled from Scotland and cleared land on North Pender Island. They planted grafts of Red Delicious that they purchased from a nursery in Victoria. The original Roe house is now The Pender Islands Museum and the orchard still produces healthy apples. With its deep red colour and mild, sweet flavour, it is no wonder that the Scottish newcomers planted this variety—one of the many delicious varieties that you can taste in the park reserve.
Members of the public are invited to collect fruits from the heritage and non-heritage orchards in the park reserve, subject to certain conditions.