Clean sweep for wildlife
Waterton Lakes National Park
Forty-four per cent of the vegetated area in Waterton Lakes National Park was burnt with high or very high severity in the September 2017 Kenow Wildfire.
With so much vegetation burned away, decades of accumulated debris along popular roadsides and trails, mainly glass and metal, became visible. This debris represented a hazard for visitors and wildlife alike.
To help clean this up, Waterton Lakes National Park organized a volunteer Clean Sweep for Wildlife, with one event in April, 2018 and another a few months later in July.
A total of 20 volunteers, assisted by 6 Parks Canada staff, participated in the Clean Sweep for Wildlife events. The first and largest clean-up crew worked along the Red Rock Parkway. Due to their efforts, 680 kilograms of glass and metal were removed from the parkway, from the entrance gate to Lost Horse Creek.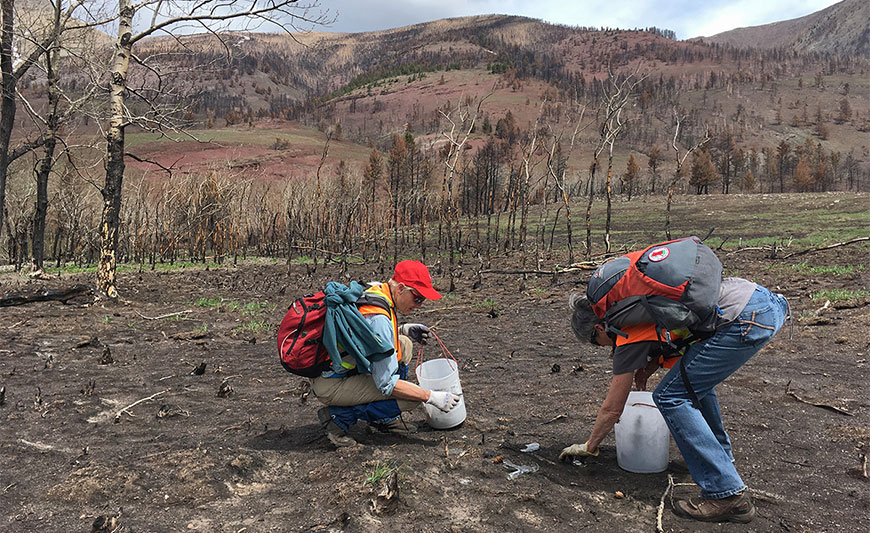 Then in July, a smaller group cleaned along the Lakeshore Trail and the junction area with the Bertha Falls Trail. The volunteers were supported by Parks Canada archaeologists, who provided guidelines to ensure items of potential cultural value were not disturbed and were recorded. They also stopped in to check on volunteer finds on both days.
Items found by volunteers included bison bones, an old toy wagon and glass bottles dating back to the 1920s, from regional bottling companies no longer in existence.
Debris removed from the Red Rock Parkway alone provided an idea of the sheer amount of material that can build up over decades, especially in heavily-used areas of the park.
This speaks to the importance of cleaning up after visiting the parkways, trails and day-use areas in Waterton Lakes National Park.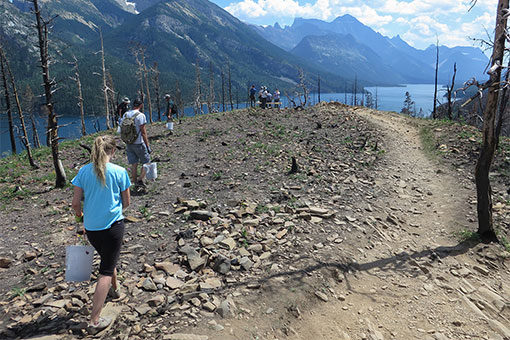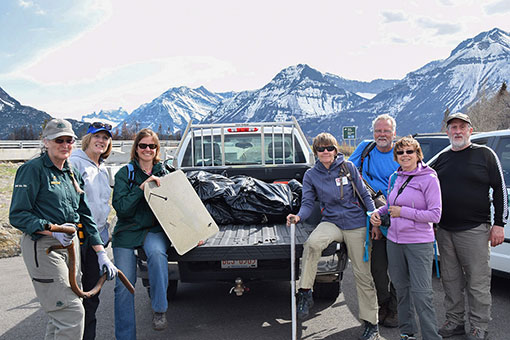 Parks Canada would like to remind visitors to Leave No Trace while exploring the park. Together, we can make the park safer for wildlife, achieve the pristine scenery one expects in a World Heritage Site and reduce the need for such labour-intensive clean-ups. Do the right thing:
Pack out all garbage, including organic matter like apple cores and orange peels, when hiking. Be sure to give your campsite or picnic site one last inspection before leaving, just in case you've missed something.
If you discover "litter" that looks like something your grandparent's generation or older may have left, don't disturb it. Take a photo instead! Provide Parks Canada staff (e.g. at the Visitor Centre) with the location, a description and your photo.
If you discover modern-day litter, please pick it up and properly dispose of it. Doing so makes you an honorary member of the volunteer Busy Beavers Clean-Up Crew. You can also officially join the crew.
The spring snow melt will reveal if there are still some accessible sites where regrowth hasn't yet hidden litter and artifacts exposed by the wildfire. In any case, there are additional clean-up opportunities available for volunteers, such as the Great Canadian Shoreline Clean-up.
Visit our volunteering web pages for project descriptions, upcoming dates and contact information. You will also find a link to join our volunteer contact list. Those who sign up will receive email newsletters with news and upcoming opportunities.