Backcountry Planning Guide
Jasper National Park
Backcountry users are the eyes and ears on the trails. Do let us know of issues you may have come upon on your trip by contacting jasperinfo@pc.gc.ca
---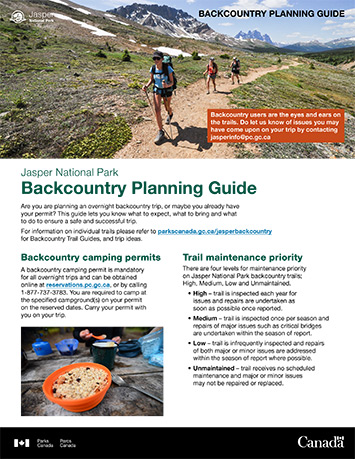 Backcountry camping permits
A backcountry camping permit is mandatory for all overnight trips and can be obtained online at reservation.pc.gc.ca, or by calling 1-877-737-3783. You are required to camp at the specified campground(s) on your permit on the reserved dates. Carry your permit with you on your trip.
Trail maintenance priority
There are four levels for maintenance priority on Jasper National Park backcountry trails; High, Medium, Low and Unmaintained.
High – trail is inspected each year for issues and repairs are undertaken as soon as possible once reported.
Medium – trail is inspected once per season and repairs of major issues such as critical bridges are undertaken within the season of report.
Low – trail is infrequently inspected and repairs of both major or minor issues are addressed within the season of report where possible.
Unmaintained – trail receives no scheduled maintenance and major or minor issues may not be repaired or replaced.
---
Campgrounds
Camp only at the campgrounds indicated on your Backcountry Camping Permit and use the numbered tent sites when provided. All backcountry users must have a valid permit for the campground they are using. Stay only at the campground to which your reservation corresponds.
All campground facilities are communal. Please respect other parties by not monopolizing amenities. These common amenities may include tables, fire-pits, docks or shelters.
---
Food storage
To minimize your campground's attractiveness to bears and other wildlife, all attractants including food, garbage, toiletries and cooking equipment must be stored securely at all times when not in use. Campgrounds are equipped with food lockers, cable storage, or a pole.
PACK IT IN, PACK IT OUT!
Do not leave anything behind in the campgrounds. Pack out everything you brought, even broken equipment. Park staff DO NOT clean backcountry campgrounds.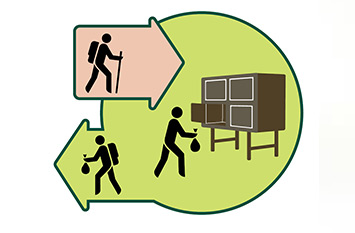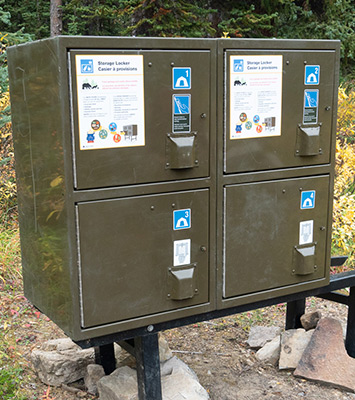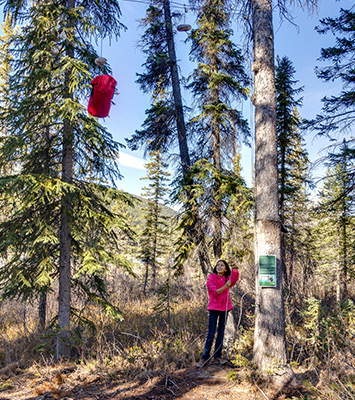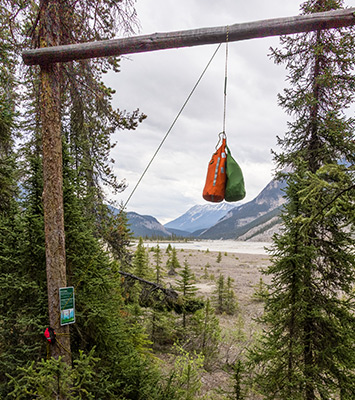 Where no food storage facilities exist
Use a bear-resistant container. Use only containers approved by the Interagency Grizzly Bear Committee.
Store your bear-resistant container at least 30 m downwind from your tent. Choose a spot away from cliffs and water sources.
---
Toilet facilities
Official campgrounds are equipped with barrel toilets, pit toilets (green throne) or bar toilets (remote campgrounds only). You can find this information in the Backcountry Trail Guide specific to your trail. When staying in a campground, always use the provided toilet. When on the trail, use the campground toilets whenever possible. Where there are no facilities nearby, select a spot away from trails, campsites and at least 70 m from water sources. Dig a hole 12 to 16 cm into the dark-coloured, biologically active soil layer. Loosely fill the hole with soil afterward. Use as little toilet paper as possible. Bury the toilet paper completely.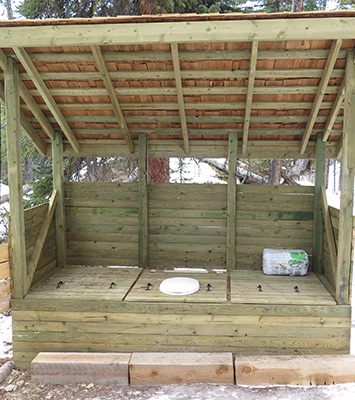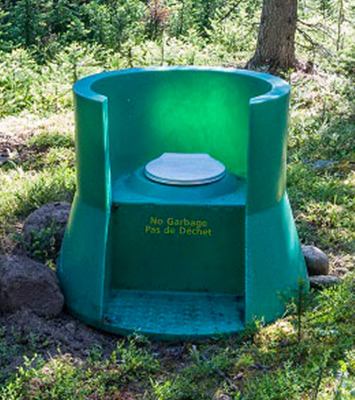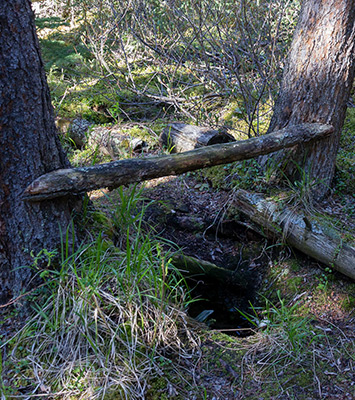 ---
Campfires (where and when permitted)
Fires are only permitted in the provided metal fireboxes.
It is illegal to have a fire outside a firebox
Keep your fire small and use only provided wood or deadfall. It is illegal to cut trees or branches for fires.
Tend to your fire at all times and extinguish it completely before you move on.
Gas stoves are cleaner and more efficient for cooking.
Check for fire bans on the Jasper National Park trail report before your trip.
Campfires are NOT allowed in random camping areas. Cooking stoves only; no exceptions.
---
Water and grey water
Giardia lamblia is a parasite carried by humans and some domestic and wild animals. These parasites can occur in any surface water in the park and may contaminate the water supply. Boil your drinking water or purify it with a water filter or iodine tablets. There is a water source near all campgrounds.
To wash yourself or your dishes, carry water 70 m away from streams or lakes and use small amounts of biodegradable soap. Strain out those last bits of food waste and pack them out. Disperse strained water on land away from the campground.
Some campgrounds in Jasper have grey water disposal pipes. If these are present strain cleaning water into pipe and pack out any remaining food waste.
---
Garbage
Pack it in and pack it out! You are responsible for everything you take into the backcountry and this includes garbage. Do not dispose of garbage in toilets—it will attract animals.
---
Hammocks
Hammocks are permitted at some backcountry campgrounds provided you use webbing straps on the support ropes to protect the trees from which the hammock is hung. Hammocks are not permitted in campgrounds where the trees are not suitable for hammocks. Do NOT hang hammocks from food storage poles. You may damage the poles, or attract wildlife. Choose the trees from which you hang the hammock carefully. An old or rotten tree may fall over when a hammock is hung from it. You are responsible for your own safety.
Hammocks are NOT permitted at:
Athabasca Island
All Skyline trail campgrounds
Jonas Cutoff
All Fryatt Valley campgrounds
Second Geraldine Lake
Tonquin Valley
Big Bend
---
Weather
The most predictable thing about mountain weather is its unpredictability. Rain or snow can fall at any time of the year and freezing temperatures are possible even during the summer. The best way to deal with the weather is to prepare for all conditions. Weather forecast
---
Other things to know
Safety
General

You are responsible for your own safety.

Tell someone where you're going and when you plan to return.
Be aware of wildlife and prepared in the event of an encounter. Carry bear spray and ensure you know how to use it.
Do your research – know the distances and elevation gain required and any bail-out routes.
Be prepared for extreme weather and mountainous terrain.
There is no cell phone coverage in most of Jasper National Park.

Before leaving, check the Jasper National Park trail report for up-to-date trail conditions, fire bans, or warnings/closures.
Wildlife

No matter how tame they may seem, all wildlife is unpredictable and potentially dangerous.

Do not approach or feed ANY wild animal, big or small. Even ground squirrels can bite and they carry some nasty parasites too.

Observe wildlife from a safe distance: at least 30 m (3 bus lengths) for elk and other herbivores and 100 m (10 bus lengths) for bears and other carnivores.
Elk safety

Though they might not appear threatening, elk can be aggressive and attack without warning. In the spring calving season (May – June) female elk aggressively defend their young. During the fall mating season (Aug – Sept), male elk are particularly belligerent. Do not approach elk in any season as they are dangerous.
Ticks and Lyme Disease

Throughout Jasper National Park, from April to November, there is a small chance of being exposed to Lyme disease if bitten by an infected blacklegged (deer) tick. Lyme disease is a serious illness; however, it's easy to prevent and treat when caught early.

For more information on Lyme disease, blacklegged ticks, and how to protect yourself from tick bites while enjoying the outdoors, please visit the following websites:
Public Health Agency of Canada - Facts about Lyme disease
Alberta Lyme Disease and Tick Surveillance
Etiquette
Do not shortcut trails

Shortcutting off trails damages both the soil and plant life. This not only ruins the look of an area, but makes it susceptible to further damage by erosion.
Do not collect natural or cultural objects

Rocks, fossils, horns, antlers, wildflowers, nests and all other natural or historical objects in a national park are protected by law. Leave them as you found them for others to enjoy.

For more information on low impact travel in the backcountry visit www.leavenotrace.ca
Fishing

A National Park Fishing Permit is required. Provincial fishing permits are not valid in national parks. Permits are sold at park information centres and Jasper retail outlets that sell angling supplies. The Mountain National Parks Fishing Regulations provide information on open seasons, closed waters and limits. All fish waste should be burned hot in the fire rings. This good bear-safe practice will eliminate grease, odours and food attractants. Visit fishing regulations page for more information.