Parks Canada App
Enhance your next visit with the official Parks Canada App. Get on-the-go access to the essentials, easy to use navigation, and exclusive access to self-guided tours on your mobile device.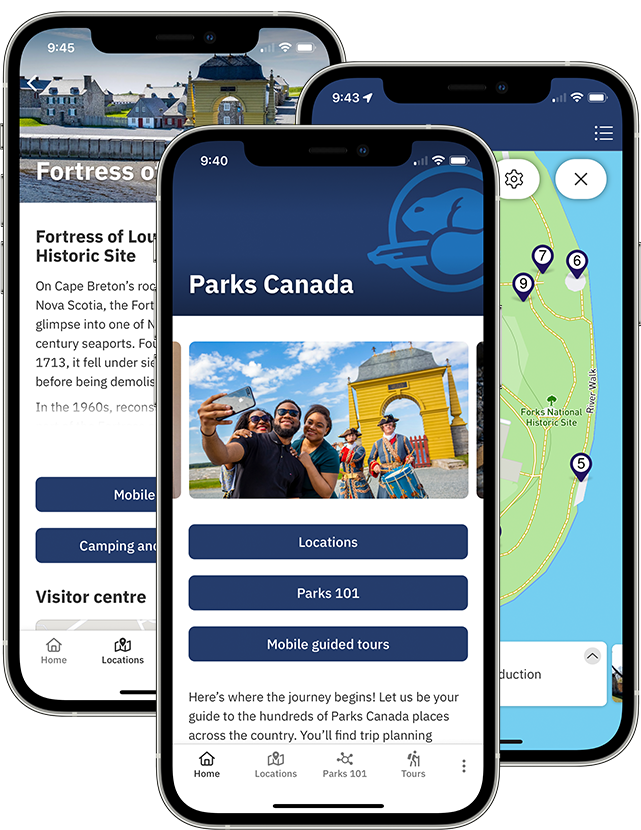 Locations
Get directions, information, and search for locations "near me."
Self-guided tours
Explore at your own pace with experiences available only on the app.
Discover
Learn about our conservation initiatives, listen to our podcast, Learn-To Camp, plan your visit and more.
Accessible
Enjoy in-app accessibility support for screen readers, content in French and English, and more languages available for select tours.
Available offline
Download and use from anywhere.
Self-guided tours in the palm of your hand
Discover untold stories, and new perspectives with these interactive self-guided experiences. Featuring GPS triggered stops, audio, video, quizzes, and more. Explore by foot, bike, or car with these tours available only on the Parks Canada App.
Locations with mobile guided tours
Atlantic Canada
Castle Hill National Historic Site

Castle Hill walking tour

Hiking

Historic experience

Walking tour

Take a walk with us and uncover the hidden stories waiting to be told amongst these ruins.




Learn more about Castle Hill National Historic Site

Fortress of Louisbourg National Historic Site

Louisbourg 101

Historic experience

Walking tour

This short tour gives a brief introduction to the history of the Fortress and the people who lived here.

Louisbourg: a brief history

Historic experience

Indigenous stories

Walking tour

Learn more about the rise, the fall, and the reconstruction of the Fortress of Louisbourg and the people that lived there.




Learn more about Fortress of Louisbourg National Historic Site

Gros Morne National Park

Tablelands trail

Hiking

Nature and science

Walking tour

The main trail follows an old roadbed as it skirts the base of the mountain. Join us on a stroll through time and see unusual rocks and plants as the Tablelands shares its geological wonders.




Learn more about Gros Morne National Park

<! --- Quebec -- >

Quebec

Cartier-Brébeuf National Historic Site

Testimonials

Historic experience

Walking tour

You'll hear from three locals about their personal connection to this place, and these stories are intertwined with historic accounts from the winter of 1535 and 1536.




Learn more about Cartier-Brébeuf National Historic Site

Forges du Saint-Maurice National Historic Site

Diabolus ex machina

Audio

Historic experience

Walking tour

This outdoor activity invites you to enter the historical world of the Forges-du-Saint-Maurice and to discover the site through the playful lenses of iconic Québec storyteller, Fred Pellerin.




Learn more about Forges du Saint-Maurice National Historic Site

Grosse Île and the Irish Memorial National Historic Site

Western sector tour

Historic experience

Walking tour

This is where the story of the Grosse-Île quarantine station began in 1832 and where all of the main facilities were located.

Central sector tour

Historic experience

Walking tour

This is where the employees of the station lived, in the village of Saint-Luc-de-Grosse-Île.

Eastern sector tour

Historic experience

Walking tour

Welcome to the Eastern sector, also known as the hospital sector. Sick immigrants were sent here for treatment to keep them separate from those who were healthy.




Learn more about Grosse Île and the Irish Memorial National Historic Site

Saint-Louis Forts and Châteaux National Historic Site

Tour of the Saint-Louis Forts and Châteaux

Audio tour

Historic experience

Multiple languages

Welcome to Quebec City, which is both a walled city and a UNESCO World Heritage Site! A place rich in history and stories. This audio tour is available in English, French, Spanish, German, and Mandarin.




Learn more about Saint-Louis Forts and Châteaux National Historic Site

Sir George-Étienne Cartier National Historic Site

Cartier's Quarter historic walk

Historic experience

Walking tour

Discover the area we now call Old Montréal when it was the centre of the city! Put on your finest hat and take a stroll through Cartier's neighbourhood.




Learn more about Sir George-Étienne Cartier National Historic Site

<! --- Ontario -- >

Ontario

Bellevue House National Historic Site

Outdoor grounds & garden tour

Beautiful gardens

Historic experience

Indigenous stories

Walking tour

Let's go for a walk and hear stories about the lives of the men and women who called this place home.




Learn more about Bellevue House National Historic Site

Rideau Canal National Historic Site

Dow's Lake

Bike or walking tour

Historic experience

Nature and science

Discover how the Rideau Canal has helped shape the development of the city of Ottawa and surrounding area.

Downtown Ottawa

Historic experience

Indigenous stories

Walking tour

We'll explore the downtown section of the Rideau Canal up to the Corktown Footbridge. We'll go up one side of the canal, and down the other!

Central Experimental Farm

Historic experience

Nature and science

Walking tour

Let's explore the sights, sounds, and smells of the only working farm in the middle of a capital city. This is a working farm so watch where you step!




Learn more about Rideau Canal National Historic Site

Canadian Prairies

Western Canada

Northern Canada