Activities and experiences
Klondike National Historic Sites
Walk straight into 1898 in Dawson City, a living town amid historic gold rush buildings. Hear tales of exhilarating adventures from lively interpreters in period clothes. Imagine 19th century entertainment in an ornate theatre, experience a famed wilderness poet's life in a log cabin, step on board a vintage sternwheeler, then venture into the Klondike goldfields that stoked a feverish stampede of fortune-hunters.
Featured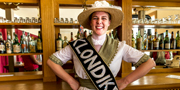 Prowl through historic buildings, exploring past and present Dawson City on a lively guided town tour or a self-guided walking tour, then visit the elegant Commissioner's Residence and pristine gardens.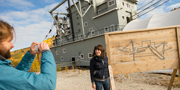 Stand at the exact spot where the Klondike's gold was first glimpsed in 1896, then explore a monster machine that chewed through creek beds and brought gold to light in a newer era of mining.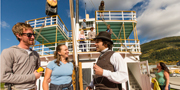 Come on board the historic S.S. Keno National Historic Site and enter an era when legions of sternwheelers were a lifeline on the Yukon's rivers, carrying supplies and ore, passengers and mail.
Things to do

Photography

Theatre