Historic Site Management
Chambly Canal National Historic Site
Designations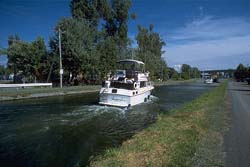 (Extracts from Commemorative Integrity Statement, Chambly Canal National Historic Site, preliminary document, January 1999, Parks Canada)
The statement of commemorative integrity is a guideline for the planning and management of historic canals. The commemorative intent and complementary objectives are designed to ensure the protection of the resources that account for the site's national significance and are the direct reference for development orientations.
The commemorative intent is as follows:
"The Chambly Canal is part of Canada's network of historic canals. Located on the Richelieu River, it commemorates, with the Saint-Ours Canal, the role of this navigable waterway during the 19th and the 20th centuries, as part of a canal system linking Montreal to New York via the Richelieu River, Lake Champlain and the Hudson River".
Chamby Canal National Historic Site of Canada Management Plan 2018