Request for Proposals
Lachine Canal National Historic Site
Selected merchants
The selected merchants are now known! We are proud to present them to you:

Follow us on the web and social media over the next few months to learn all about their programming and activity offerings!
Become a supplier of tourism products and services!
Parks Canada invites organizations, businesses or individuals who would like to enrich the offer of activities and experiences offered to visitors of the Lachine Canal National Historic Site to submit their application in order to enhance its programming as of summer 2023. The development of the offer is an integral part of Parks Canada's Visitor Experience Strategy and supports the vision set out in the Lachine Canal Management Plan (2018).
Goals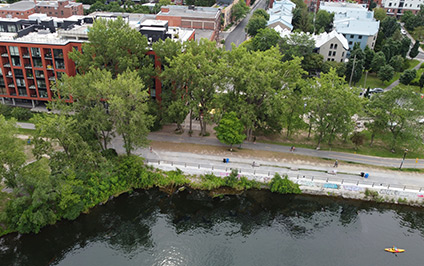 Parks Canada is seeking innovative visitor experiences and services that will maximize the potential of the Lachine Canal National Historic Site located in the heart of the city of Montréal. In issuing this invitation, the Agency is seeking to mobilize the entrepreneurial ecosystem in order to inform as many entrepreneurs as possible of this opening in the service offering of this heritage site.
The objectives of this Request for Proposals are:
To provide an opportunity for the greatest number of people to submit proposals to implement and operate various types of concessions and services in order to provide visitors and Montrealers with a rich and quality experience;
Contribute to the distinctive and dynamic character of the Lachine Canal;
Continue the efforts already undertaken by the Agency to increase the attractiveness of the national historic site.
Project
The Request for Proposals process will open on January 31, 2022 and close on March 31, 2022 at 11:59 p.m.
Different types of experiences are sought, including:
Equipment rental for free activities: bicycles, non-motorized watercraft (canoes, pedal boats, kayaks, dragon boats, paddle boards), equipment for winter activities (bicycles with oversized tires, or "fat bikes," snowshoes, cross-country skis);
Dining and shopping: boat dining, light meals, fair trade, social commerce;
Organized programming and activities: motorboat rentals, guided river shuttles, other supervised activities.
A single company, organization or individual may submit a bid for more than one site available along the canal (see below) and for more than one product or service. Several organizations can also join together to submit a project. Fees related to the use of land, buildings and facilities shall apply.
Companies, organizations or individuals must be able to implement their proposals as early as the 2023 operating season and no later than May 19, 2023.
Parameters
Here are some parameters to consider in your project submission:
Location 
The Parks Canada sites currently accessible at the Lachine Canal are located at the Atwater Pole, the Monk's Station, and Place des Bassins.
Potential Market Segments
Visitors: 1.2 million visitors annually;
Boaters: 1.500 boats annually;
Residents: growing population, booming sector, urban population.
Term of the Lease Agreement:
The expected duration of this concession shall be 10 years. One (1) renewal period for a maximum of 10 years may be granted to the Licensee under certain conditions.
Rent and Gross revenue
An

annual base rent

of five thousand ($5000.00) for a shoreline occupation of 200 square meters or less and thirty dollars ($30.00) per additional occupied square meter or part of a square meter, and;
A minimum percentage of six percent (6%) of gross revenue, and;
Docking fees

if applicable

.
Compliance with current health regulations
Depending on the evolution of the COVID-19 pandemic, the promoter will have to put in place, if required, preventive measures against COVID-19, as required by the Government of Quebec, and ensure that they are respected:
Comply, where applicable, with the basic health instructions to limit the spread of COVID-19 of the Government of Quebec in effect at the time the activity or service is provided;
Depending on the nature of the activity or service, respect the measures in effect for certain specific sectors;
The person in charge of each dealership shall provide a vaccination certificate for all their employees.
Work Schedule
January 31, 2022: Launch of the Request for Proposals
March 31, 2022, 11:59 p.m.: deadline for submission of proposals
April-May 2022: analysis of proposals
May 2022: announcement of selected proposals to the promoters concerned
May 19, 2023: implementation of the new summer services and activities
Selection Criteria
Proposals will be evaluated against the following mandatory requirements:
Proponent Information
Proponent's commercial and operational experience
Financial Resources
Insurance
Proposals meeting all mandatory requirements will then be evaluated on the following rated requirements:
Experiences and Services Offers
Layout and Installation of the Facilities
Business Plan and Marketing
Parks Canada Priorities
Proposed Rental Amount
If you have any questions or comments, please contact us by email at infocanal@pc.gc.ca