Canal path safety
Lachine Canal National Historic Site
The path along the Lachine Canal is paved and is shared by cyclists, in-line skaters and pedestrians. Courtesy and caution are the keys to a successful outing.
The path is completely separated from car traffic, is well lit at night and has clear signage.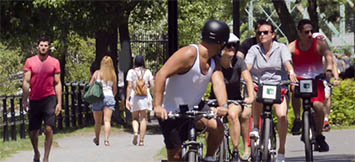 The path. I love. I share.
In order to improve cohabitation on the path of the Lachine Canal, you can come see our Parks Canada on-site team to ask all your questions about the safety on the Lachine canal path.
Here are some guide rules to follow
Speed limit on the Lachine Canal path is 20 km/h.
When you see this sign you have to walk your bike.
Ride in a single file when travelling in a group.
Be courteous and respectful, signal your intentions and most importantly be cautious!
Electric scooter
Power-assisted bicycles or electric bicycles equipped with a running board, an open frame or a flat floor, commonly referred to as "electric scooter" are prohibited on the Lachine Canal path.
According to the Highway Safety Code (Code de la sécurité routière), drivers of such vehicles must use the road network and comply with all rules and regulations pertaining to cycling. Your safety is important to us and Parks Canada does everything possible to ensure you have a safe and enjoyable visit.
Your pet at the Lachine Canal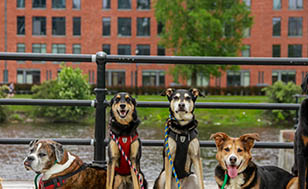 Pets are welcome as long as they are kept on a leash, they don't disturb other users and any trace of their passing is promptly removed. Consult the Domestic Animals section of the Historic Canals Regulations (DORS/93-220).
Please note that Lachine Borough regulations (french only) apply to Promenade Père-Marquette and Monk Island.

We thank you for your cooperation and wish you a wonderful visit to the Lachine Canal National Historic Site!