Gateway to the Ottawa River
Sainte-Anne-de-Bellevue Canal National Historic Site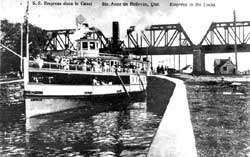 The Sainte-Anne- de-Bellevue Canal is part of a huge network of canals that boats can use to bypass natural obstacles like rapids and shoals on three major waterways: the St. Lawrence River, the Richelieu River and the Ottawa River.
At the western end of the Island of Montreal, between Sainte-Anne-de-Bellevue and Île Perrot, this canal is a gateway to the Ottawa River, a waterway over 1200 km long that was once the main communications route to the north and the west. It also offers a route to Kingston via the Rideau Canal.
A lock was already present here in 1816, in the western section of the Vaudreuil Canal, between the mainland and Île Perrot. This lock belonged to private companies that had a monopoly over the Ottawa River and even the Rideau Canal. Opposing this unfair practice, other merchants in the region petitioned the government of Lower Canada to demand the building of a public lock at Sainte-Anne-de-Bellevue.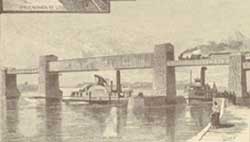 © Bibliothèque nationale du Québec / 1882
Despite the agreement of Lower Canada's government, financial, administrative and political setbacks delayed the start of construction, which began in 1840 and ended on November 14, 1843. Built in the eastern part of the channel, the hewn stone lock measured 58 metres long by 14 metres wide and 2 metres deep at the sills. Soon after it opened, many people travelled through it to settle in Upper Canada.
The approach to this lock posed major navigation problems. Heavy commercial traffic made a second lock essential. Following the recommendations of the Canals Commission in 1870, a second lock was built parallel to the east channel, with work completed in 1882. Becker's Dam, which is a channel in the middle of Lac Saint-Louis, was also built, permitting vessels to cross through shallow waters. The old lock continued to be used intermittently until the early 20th century, before being completely filled in in 1964.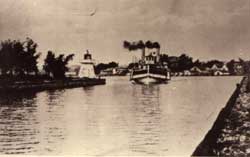 © Collection Denise Cypihot et Judith Isherwood / 1910
Since the building of the second lock, the Sainte-Anne-de-Bellevue Canal and the canals of the Ottawa River were mainly used to transport wood to Montreal. This commerce flourished until 1919.
As with the Carillon Canal, the introduction of railways and the decline in the forestry industry gradually changed the role of the Sainte-Anne-de-Bellevue Canal. Today, it is a destination for pleasure boaters from Saint-Louis Lake and Des Deux-Montagnes Lake.