Amazing discovery of an old lock door at Sainte-Anne-de-Bellevue Canal
Sainte-Anne-de-Bellevue Canal National Historic Site
Amazing discovery of an old lock door
On October 27, 2020, from the rapids of Lake Saint-Louis, near the lock of the Sainte-Anne-de-Bellevue Canal, Parks Canada pulled out an old lock gate leaf weighing over 36 tonnes, the weight of 13 adult elephants combined!
In summer 2020, a lock gate was seen floating on the surface of the water and has been removed. Parks Canada's experts are currently carrying out the heritage recording process.
At that time, emergency doors were sunk to the bottom of the water so that they would be readily available in case of breakage. According to our experts' observations, the leaf is complete, except for the gateway and the opening mechanisms, which are missing. The gate could have been sunk in 1972.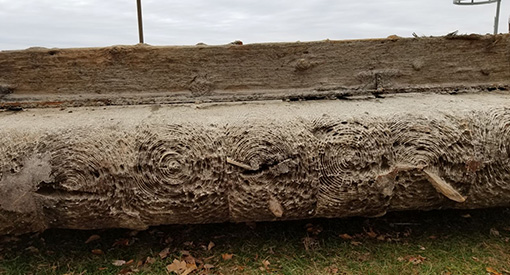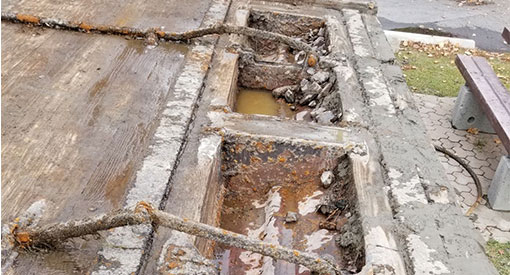 Protected by a tarp, the leaf was left on the site over the winter to allow Parks Canada to make a decision on its future. A 3D survey of the structure will be completed in early summer 2021, after which the door will be dismantled. Analyses have revealed the presence of highly toxic contaminants on the leaf, which does not allow for a safe return to the water considering the environmental issues involved.
The option of keeping the leaf on site as an interpretive feature was also considered, although it was not pursued due to the complexity of keeping the leaf out of the water in a way that would make it resistant to the elements.
Interpretive tools will be developed and presented to the general public in the coming months to highlight this exceptional discovery; further details will then be communicated on our various platforms.