Info-Work: Ranney Falls Dam 10
Trent-Severn Waterway National Historic Site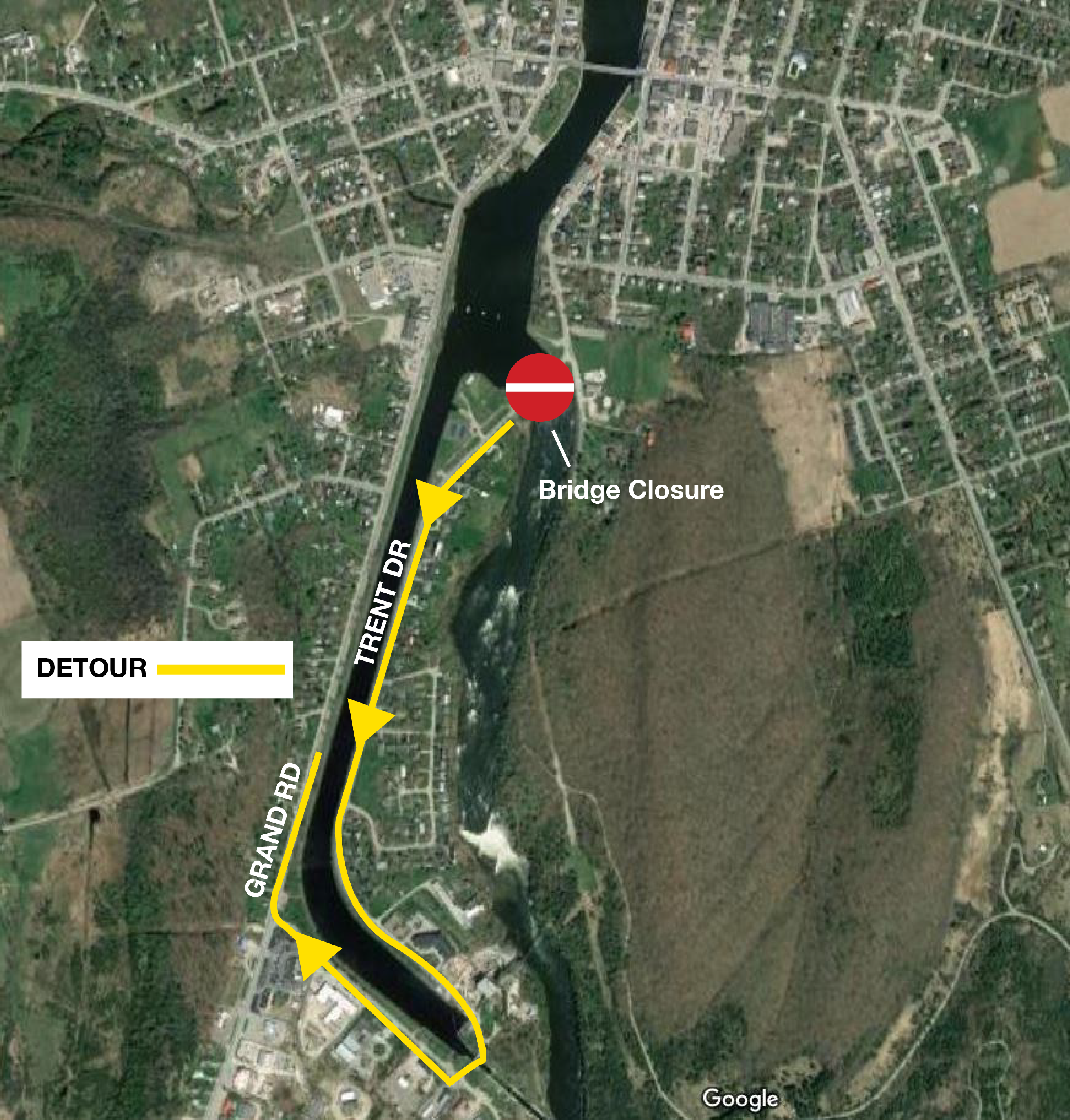 Campbellford, Ontario, March 31, 2021 – Parks Canada would like to inform the public that the Ranney Falls Dam 10 bridge in Campbellford will be temporarily closed to vehicular and pedestrian traffic from April 8th, 2021 to April 13th, 2021. A detour route will be in place along Trent Drive and Grand Road as outlined in the detour map below. Residents and visitors are advised to follow detour signage and to exercise caution.

The short term closure is required to allow the newly poured north lane to cure while preventing damage to the reinforcing steel connected to the south lane. Following this closure, the bridge will be reopened to one lane while final work is completed. The bridge is projected to return to full two-lane capacity in spring 2021.

The rehabilitation of Ranney Falls Dam 10 is part of the Government of Canada's Federal Infrastructure Investment program. Parks Canada is leading this important infrastructure work to ensure safe, high-quality experiences for visitors by improving heritage, visitor, waterway, and highway assets located within national historic sites, national parks, and national marine conservation areas, including along the Trent-Severn Waterway National Historic Site. We appreciate your patience while we undertake these important investments into the waterway infrastructure in Campbellford.


More Information:
For questions or concerns, or to receive email updates regarding this project, please contact us at
pc.trentsevern.pc@canada.ca
and include "Ranney Falls Dam 10" in the subject heading. For news about this or other infrastructure projects in your area, please visit
www.pc.gc.ca/tswTrentHills
.