Community Update: Ranney Falls Dam 10 Construction Update
Trent-Severn Waterway National Historic Site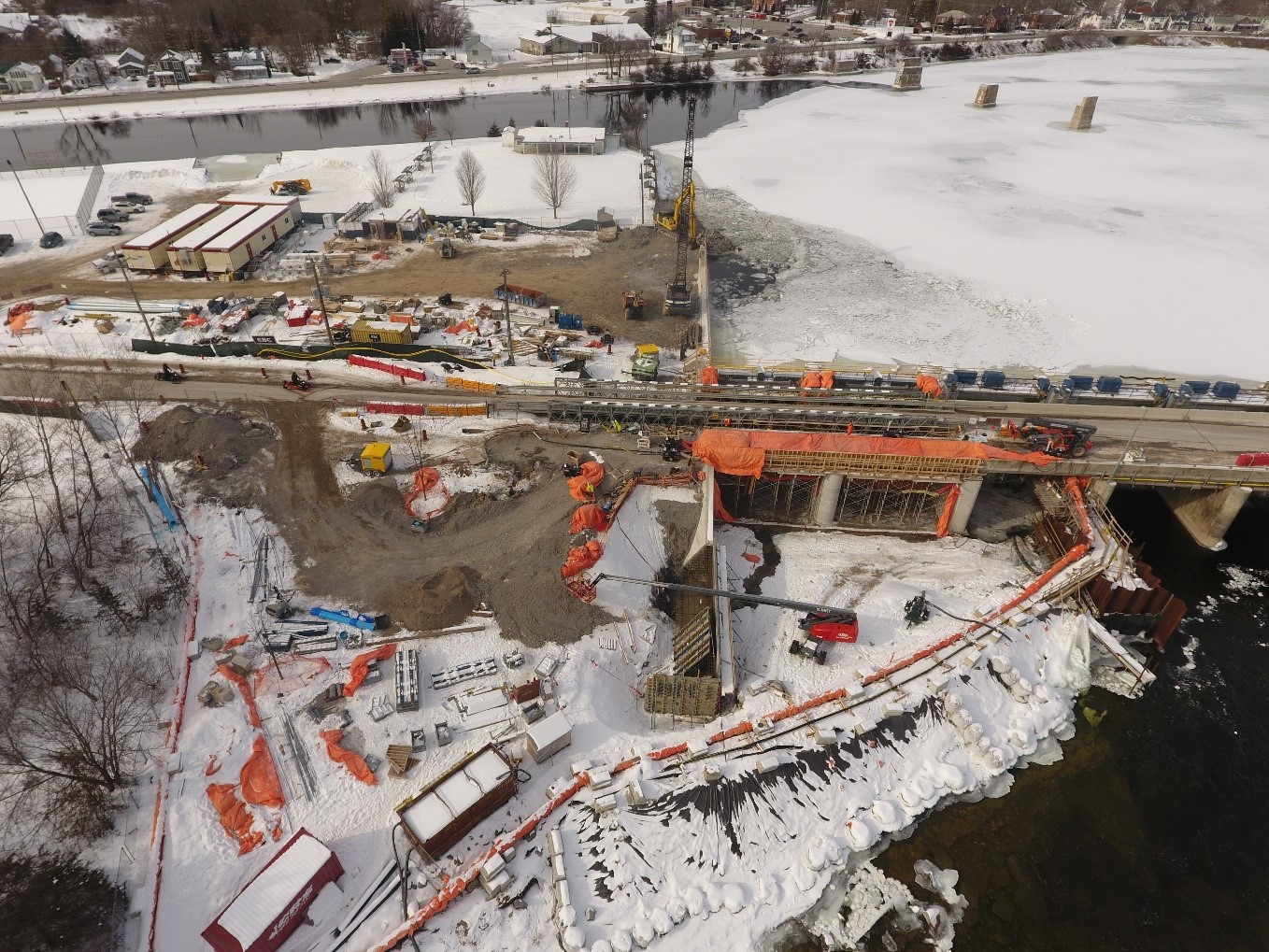 March 5, 2021– Parks Canada would like to advise that the south lane of the bridge atop Ranney Falls Dam 10 is expected to reopen to both vehicles and pedestrians on March 8th. The bridge will remain one lane only while work on the north lane is being completed.

At this time, the temporary one-lane bridge connecting Trent Drive to Saskatoon Ave, that was installed for vehicular traffic to utilize during the infrastructure upgrades, will be removed. The temporary bridge is in the same location that the north lane will be and needs to be removed before work on the north lane can begin. Traffic will be directed to utilize the south lane on the Ranney Falls Dam 10 bridge.

Remaining work on the bridge includes preparing for and pouring the north lane followed by waterproofing and asphalt paving of the bridge deck. A portion of this work will require a closure of the Ranney Falls Dam 10 bridge at the end of March in order to allow the newly poured north lane to cure while preventing rolling loads on the south lane from disturbing the reinforcing steel that connects the lanes. This closure will last no more than a few days and a detour route will be in place during this time. Further updates will be provided ahead of the closure date.

Following this closure, the bridge will be reopened to one lane while final work is completed. The bridge is projected to return to full two-lane capacity in spring 2021.

Background
The Government of Canada is investing more than $615 million to support infrastructure projects across the Trent-Severn Waterway and its reservoir lakes, including Ranney Falls Dam 10. The rehabilitation of Ranney Falls Dam 10 includes the construction of two additional sluices on the west end of the dam, a new dam control building, electrical upgrades, and improvements to public safety features at the site, including guardrails and signage. The newly expanded dam will increase the water discharge capacity, and improve water management capabilities which will reduce the likelihood of flooding.
More Information
For questions or concerns, or to receive email updates regarding this project, please contact us at
pc.trentsevern.pc@canada.ca
and include "Ranney Falls Dam 10" in the subject heading. For news about this or other infrastructure projects in your area, please visit
www.pc.gc.ca/tswTrentHills
.